Welcome to the Credit & Financial Development Division (CFDD)
A CFDD Chapter is a group of credit professionals organized with a focus on education, networking and professional support for employees of member firms of the National Association of Credit Management. Membership enhances professional status while promoting attainment of educational goals, business contacts, networking opportunities and leadership development.
"Membership in CFDD is an investment in yourself! It provides a pathway for you
to reach your educational goals and professional success."
OUR MISSION
The mission of the NACM Credit and Financial Development Division is to develop tomorrow's business leaders through core offerings.
OUR VISION
To be a leading provider of professional development opportunities through learning, coaching, networking and individual enrichment.
BENEFITS OF MEMBERSHIP
Networking
CFDD and NACM engage our members in national and local educational and networking events, providing a support system for credit and finance professionals. You will meet and get to know some of the most valuable resources in the industry: other credit people like you.
National Association Resources
As a member of CFDD you will have full access to all of NACM's highly valuable resources. Click here to learn more.
Scholarships
CFDD-National offers scholarships to its members for:
CFDD National Conference Fees
NACM Credit Congress Registration
Designation Application Fees
School Registration Fees
Self-Study Courses
NACM Credit Learning Center Designation Exam Review Package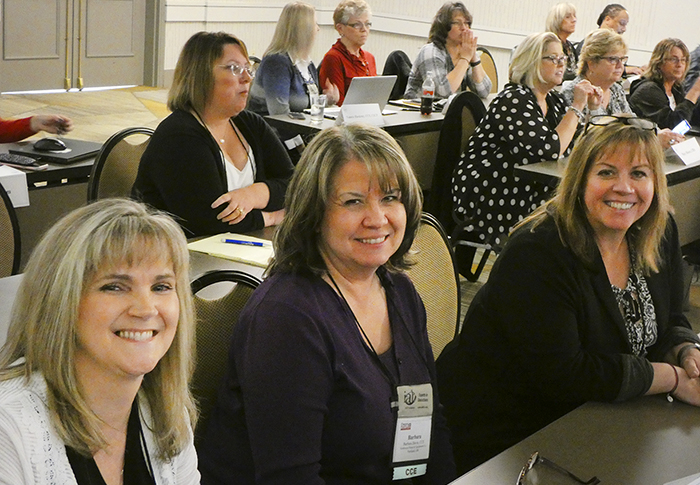 Education/Professional Career Development
Educational opportunities for members include national and regional NACM conferences, national CFDD conferences, and local chapter meetings. Information for all facets of the credit and financial industry and professional development are offered by experts in their field. With all of the educational and networking opportunities made available, it is impossible to not grow personally and professionally.
CFDD MEMBERSHIP
CFDD comprises:
Chapters - Individual members employed by firms holding membership in any NACM Affiliated Association.
Direct Members - Individuals who are located in areas in the US where there are no CFDD chapters and are employed by firms holding membership in any NACM Affiliated Association.
For the CFDD Direct Member Application, click here. Please note that you must be located in the US and employed by a firm holding membership in any NACM Affiliated Association.
Apply for a CFDD Scholarship Applications due March 15 and July 15
Apply to serve on the CFDD National Board of Directors
Applications due April 1
QUICK LINKS
CFDD Chapters
CFDD Honors & Awards
CFDD Honors & Awards Applications
CFDD Logo Items
CFDD National Conference
CFDD Newsletters
Join CFDD Today!
Scholarship Applications:
-for the seasoned CFDD member
-for CFDD members of three years or fewer
-for members without company support
SHOP CFDD LOGO ITEMS
Business Card Holders, Pens, Portfolios and more. Show your CFDD Spirit and support this wonderful organization, all at the same time. Check out our store.
JOIN CFDD ON LINKEDIN
Click here to join the CFDD Group on LinkedIn.