Study Charts Purchasing Behavior of Latin American Companies
Opportunities are readily available for exporters to sell to Latin America, as a recent survey reveals in its look at the purchasing behavior of companies seeking new international suppliers. In UPS' Business Monitor Export Index 2017 Latin America, interviews were conducted among more than 2,000 small- and medium-size businesses within four sectors: industrial manufacturing, automotive, high tech and apparel. The nine markets in the report include the United States, Mexico, Brazil, Chile and Colombia.
The survey broke down the import process into stages, including the search for new international suppliers, purchasing decisions and the supply chain import process. Almost half of the respondents said that they are actively seeking new international suppliers, with only slight variations between the sectors. Industry fairs and trade shows were named the most widely used means of finding new suppliers, with traditional advertising coming in fourth. The most widely used online channels for finding new suppliers were search engines, followed by email contact from the vendor and advertising received by email. Among three out of four respondents, five factors were listed as highly important when evaluating a potential supplier: price, quality, logistics services, flexible payment terms and after-sales services.
Flexibility in payment terms was the third most important variable for importers in the industrial manufacturing sector when evaluating a supplier. The lowest percentage of importers purchasing online occurred in this sector, while it had the highest percentage of those who do not use promotional tools provided by suppliers, indicating a more conservative purchasing behavior. The most frequent obstacles cited in this sector were domestic logistics and additional import costs.
The largest importing obstacle cited for the automotive sector was delivery delays, followed by domestic logistics. Colombia and Costa Rica were the two countries with the highest percentage of importers seeking new suppliers in this sector, the report said.
The highest level of online activity in import processes was recorded in the high-tech sector, due to a preference for online searches for new suppliers and the more frequent use of online promotional tools. The most valued content on a potential supplier's website was cited to be warranty policies and product certifications.
The countries with the highest number of companies looking for new suppliers in the apparel sector were the U.S., Costa Rica and Chile. In the U.S., nearly half of the respondents said they seek new suppliers in this sector through international fairs (49%) and search engines (47%).
A chart of trade agreements between all participating countries in the survey is below.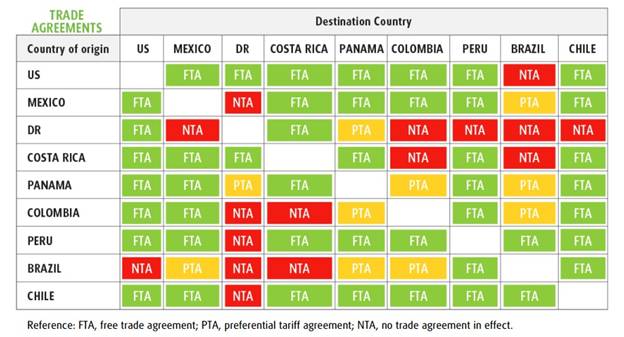 Source: UPS Business Monitor Export Index Latin America. Used by permission.

Register Early and Save!

Choose among the many upcoming online educational courses from NACM and FCIB.
CBA & CBF Courses: Fall
Accounting
Sept. 5 - Dec. 15, 2017
Registration closes Aug. 25
(Early Registration Discount ends Aug. 4, 2017)
Business Law
Sept. 11 - Dec. 8, 2017
Registration closes Sept. 1
(Early Registration Discount ends Aug. 11, 2017)
Credit Law
Sept. 11 - Dec. 8, 2017
Registration closes Sept. 1
(Early Registration Discount ends Aug. 11, 2017)
International Credit
International Credit & Risk Management Online Course
Sept. 4 - Dec. 3, 2017
Registration closes Sept. 1, 2017
(Early Registration Discount ends Aug. 4, 2017)
Credit Learning Center - CBA Courses
BCP - Business Credit Principles
FSA1 - Financial Statement Analysis 1
Courses in the Credit Learning Center can be taken at your convenience ... anytime, anywhere.
Don't Lose Focus in Owner/Contractor Disputes
It is important to not let a dispute between an owner and a general contractor get in the way of you getting paid. This was the case in Minnesota, where the Aurora solar energy project was completed last month, but more than a dozen subcontractors have filed mechanic's liens due to nonpayment.
"They have been unpaid for a long time, and quite frankly it's unexplainable," said an attorney in the Star Tribune who is representing two of the subcontractors. It is estimated the subcontractors are owed $85 million for their work. At least 20 have filed liens in Minnesota state courts.
An Italy-based owner and a Greece-based primary contractor are going back and forth on the solar energy project that includes 16 sites outside Minneapolis and St. Paul. "Overseas owners and general contractors can be problematic," said Chris Ring of NACM's Secured Transaction Services (STS). Verifying financial liquidity on a large construction project can be an issue. Pulling an international credit report on the reputed owner or GC can help solve problems. Determining the type of project—public or private—is also important to make sure the correct procedures are followed when filing a lien or claim against a bond.
The Aurora project is owned by Enel Green Power North America, which is part of Enel SpA of Rome. The contractor on the $290 million project is Biosar America, which is an arm of Aktor S.A. In February, an Enel affiliate sued Aktor, claiming Biosar did not comply with the terms of the contract. According to the lawsuit, Aurora said Biosar did not have money to pay subcontractors, and Aktor needs to repay more than $25 million to Aurora for fronting the payments to the subs. The payments were made to "prevent further damages in connection with the project," according to court documents.
Prior to the lawsuit, Biosar claimed Aurora owed more than $55 million in an arbitration proceeding. Enel and others have also proposed a $108 million payment bond to help the lien litigation. The bond would work as a way to pay lien claimants rather than foreclosing on the property. "When a lien is filed, the owner can post a payment bond instead of liquefying the property," said Ring. The minimum amount allowed is determined by the courts, and it could be as much as 200% of the project's value, but it could also be equal to its value.
Unfortunately, the lawsuit, arbitration and other factors are pushing subcontractor payment back further. It is still eight to 15 months until subs will see payment, according to one subcontractor's attorney.

Connect, Network, Learn and Share

Held each fall, the regional conferences are a wonderful opportunity for members to learn and grow by attending educational sessions and network with fellow credit professionals from their respective geographic regions.
Central Region Credit Conference
September 12-13, 2017
St. Louis, MO
Hosted by: NACM Connect
All-South Credit Conference
September 17-19, 2017
Clearwater, FL
Hosted by: NACM Tampa
CFDD National Conference
September 21-22, 2017
Omaha, NE
Hosted by: CFDD
Western Region Credit Conference
October 11-13, 2017
San Diego, CA
Hosted by: San Diego Credit Association
High-Speed Rail Funding May Be Arriving from Canada
The U.S. and Canada are on the verge of working together on a major infrastructure project. A possible source to finance the project is Canada's new Infrastructure Bank, scheduled to become operational in late 2017. Meanwhile, Washington State is hoping to utilize the funding for the proposed high-speed train in the Northwest corridor.
Gov. Jay Inslee seeks to use the bank as an option for funding the multibillion-dollar rail. According to an advisor to the governor, Washington will analyze the possibility of having the bank contribute to the financing. Gov. Inslee allotted $1 million in his budget several months ago for a cost-benefit analysis of the project. The report is due at the end of the year. The high-speed rail from Portland to Vancouver was among the topics discussed by Gov. Inslee and Prime Minister Justin Trudeau during a meeting earlier this year in Seattle.
If the state or federal government contributes funding to the project, general contractors are required by statute to post a payment bond. "The statute clearly defines the necessity to post the payment bond," said Chris Ring of NACM's Secured Transaction Services (STS). If Canada foots the bill, it is possible that the Miller Act and Little Miller Act would not apply. It depends on who the reputed owner or lease owner is, according to Ring. It is typical of rail projects to be on lease arrangements, which can be for hundreds of years, Ring said.
The governor's advisor, Charles Knutson, told the Canadian Press the analysis "will provide a better sense of the scope of the project and help determine what kinds of financing options would be available. We've heard from some of our Canadian counterparts that it's a tool we could explore and we're open to looking into it further. The fact that it is something that could support cross-border projects seems to be a good match, but we'd need to know more," Knutson added, referring to the bank.
"The purpose of the bank is to invest, and seek to attract investment from private sector investors and institutional investors, in infrastructure projects in Canada or partly in Canada that will generate revenue and that will be in the public interest," according to the Statutes of Canada. The bank will invest roughly $30 billion from the federal government.
The bank is part of the more than $140 billion Investing in Canada plan. It will have financial instruments such as debt and equity at its disposal, but the financial instrument used will depend on the project.

The BEST and LEAST EXPENSIVE Way to Train Credit Professionals

The Business Credit Principles course has been completely rewritten and revamped! It covers all the basic essentials for business credit, such as the role of credit in financial management, governmental regulations that pertain to business credit, credit and policy procedures, the Uniform Commercial Code and much more. It fulfills a CBA designation course requirement.
Look for other relevant business credit topics geared to improve job performance as well, including Financial Statement Analysis, Commercial Collections and Bankruptcy and Construction Credit, or prepare for certification with Designation Exam Reviews.
It's knowledge and training at your convenience when you sign up for courses in the Credit Learning Center. Choose the subject and learning module you want and learn at your own pace—wherever and whenever works for you.
Get started here or contact the NACM Education Department at 410-740-5560.
Team discounts are available for groups of five or more!
Global Chemicals Industry Robust, with M&A Activity High
The chemicals industry generally enjoys robust business financials, good payment records and low insolvency rates compared to other industries, but challenges are evident in the industry's subsectors throughout the world. While global sales have grown year-on-year, annual sales increases have slowed, profit margins have decreased and costs in developing new chemicals have risen.
According to credit insurer Atradius' Market Monitor reports on the chemicals industry, a wave of merger and acquisition (M&A) activity in the industry since 2015—particularly in the segments of agrichemicals, basic and specialty—has been spurred by businesses searching for long-term growth and lower costs. M&A activity has been sustained by a benign global financing environment and the persistence of low oil and gas prices. Some of the largest recent mergers include those between Dow Chemical and DuPont, Bayer and Monsanto, and ChemChina and Syngenta.
U.S. chemical subsectors enjoy a cost advantage in shale gas, contributing to expected growth of 3.6% this year and 4.8% next year. The U.S., once a high-cost producer of key petrochemicals and resins, is now the world's second-lowest-cost producer. Low prices in natural gas are contributing to the rapid expansion of methane-based products. Any infrastructure improvements implemented by the new administration would greatly benefit the chemicals industry, which would provide materials for construction. Payments in the U.S. chemicals industry take between 30 and 90 days on average, Atradius said. Insolvencies are expected to remain low this year.
Profit margins in British chemicals could be affected negatively from a decrease in global demand and domestic economic uncertainty from the Brexit negotiations. High energy costs are a concern for the industry. On average, payments in the British chemicals sector take between 60 and 90 days. Nonpayment and insolvency cases were low in 2016, and this is expected to continue in 2017.
In China, the chemicals industry is experiencing lower but solid growth due to a slowdown in GDP growth. The sector is held back by a lack of advanced technology, with a low investment rate in research and development, as well as a dependence on imported technology. Foreign companies investing in China can benefit from a growing domestic market and low construction and labor costs. Payments in the industry take from 60 to 90 days. Payment delays and insolvencies are average and no major increase in business failures is expected this year, Atradius said.
In Brazil, most chemical companies are highly leveraged, but the sector is forecast to grow, in line with the recovery in the economy. Payments take up to 120 days. The situation in payment experience and insolvencies has improved since the beginning of this year after a dire previous two years suffered from the steep decrease in commodity prices.

Do You Have the Essential Tools for International Business?
FCIB Worldwide Credit Reports
FCIB Credit Reports go beyond the numbers, providing in-depth personal and operational information about your customers and prospects that is vetted, validated and verified. FCIB adds value by using multiple providers—in fact, the best provider, on-the-ground in a region. FCIB checks to see that the subject is who they say they are. The more you know, the better your credit decision will be.
PRS Country Reports
PRS Country Reports help you manage the risk from global market uncertainty by digging beyond the headlines to give you a comprehensive, fact-based view of the economic and political risk of doing business in a particular country. Each report provides 18-month and five-year forecasts for turmoil, investment, transfer and export risk in 100 countries, plus in-depth coverage of relevant political and country risk events, country conditions and independently back-tested methodology sourced by the IMF.
Political Risk Newsletter
The "best in class" monthly Political Risk Newsletter, written by the PRS Group and available to members through FCIB, provides concise, easy-to-digest briefs on up to 10 countries, with additional recaps updating prior month's reports. Each month's Political and Economic Forecasts Table covers 100 countries, with 18-month and five-year forecasts for KPIs such as turmoil, financial transfer and export market risk. You'll also find rating changes, providing an excellent method of tracking ratings and risk, for the countries you're exporting to.
FCIB and NACM members receive a 10% discount on PRS Country Reports and the Political Risk Newsletter.
To learn more, visit
www.fcibglobal.com
.
Oregon Legislators Address Skilled Construction Labor Shortage with Apprentice Law
The state of Oregon is attempting to address the current and future state of a skilled labor shortage in the construction industry with a new piece of legislation that will bolster the use of apprenticeships on public jobs.
In adopting HB 2162, Oregon legislators are addressing a need to replace the state's aging workforce by following up on career technical education begun in the secondary school system with increased opportunities for apprentices, according to a legislative summary of the law.
"We've seen a lot of fodder in the news about folks not finding quality workers. … This is the first piece of legislation I've seen that actually tries to do something about it," said Chris Ring, of NACM's Secured Transaction Services (STS). Ring also noted President Trump's executive order to encourage and promote apprenticeships within the government and by third parties.
Ring said credit departments of materials suppliers he's regularly in contact with have yet to see a skilled labor shortage reported by GCs and owners turning into an impediment to payment. But, "It all eventually trickles down." Ultimately, suppliers could begin to experience an impact on retainage if a project becomes delayed because an owner or GC can't find the proper workforce they need.
As of Jan. 1, 2018, the Oregon law mandates any contracting agency in the state that awards public improvement contracts of more than $5 million to require the contractor to employ apprentices to perform 10% of work hours in apprenticeable occupations, according to the state's analysis of the bill. Each subcontractor for which the contract price exceeds the lesser of $1 million or 25% of the full contract price must also employ apprentices to perform 10% of its work hours in apprenticeable occupations. In 2022, the law increases the apprentice employment requirement to 12% for contracts exceeding $3 million. Note that the state's Department of Transportation is exempted from the requirement.
Depending on the terms of the contract, the contractor may determine the locations where the types of work are performed and other details concerning how apprentices are employed, the law states.
Contractors will ultimately have to send a detailed report to the contracting agency for the monthly and cumulative total number of hours worked since the contract began for those in apprenticeable occupations on that project.
At least 30 days before making any final payment on such a contract, the contracting agency will determine the contractor's compliance with the law. Further, the state's Bureau of Labor and Industries will be tasked with establishing and providing an advisory committee to monitor the implementation of the law; this committee will be able to conduct inspections of public improvement project sites to determine how contracting agencies and contractors have implemented the law's requirements.

NACM Members Ship and Save up to 50% with UPS®
You can receive discounts with the UPS® Savings Program for NACM members, even if you already have a UPS account. See how you can save:
Up to 34%* on UPS Air letters including UPS Next Day Air®
Up to 30%* on UPS® Air packages (1 lb.+)
Up to 32%* on UPS® International imports and exports
Up to 16%* on UPS® Ground shipments
50%* on UPS Next Day Air®, UPS Next Day Air Saver®, UPS Worldwide Express® export, UPS Worldwide Saver® export, and UPS Worldwide Expedited® export shipments for up to four weeks after you enroll.*
To enroll and start saving, visit www.savewithups.com/nacm.
Or call 1-800-MEMBERS (1-800-636-2377), M-F, 8am–6pm EST.
*See savewithups.com/nacm for specific services and discounts. Introductory program discounts will be applied to accounts for Weeks 1 to 4 on the UPS Savings Program. Week 1 includes the date that discounts are applied. Weeks are calculated Sunday through Saturday.