NACM and FCIB Present Author Chat: Lindsey Weigle
Event
When:

Thu, August 19, 2021

,

11:00

-

12:30

Category:
Description
General Information
Cost: Free for members
Registration Includes: One telephone and web connection at one physical location
---
Purchase the book. Read the book. Join the conversation each third Thursday of the month from 11am to 12:30pm ET.
(Please remember the time zone differences if you are not on the East Coast).
We have a lineup of authors for you to meet. The complimentary members-only get-togethers are designed around a particular book on leadership. After reading the book, you will get to speak with author, ask questions, share comments and dive deep into the topic.
---
Enough Already!
Description of the book:

On the surface, Lindsey Weigle had it together: great career, wonderful family and clean house. Like many people, she ticked off all of the boxes each day from when she woke up to when she collapsed into bed, wearing her exhaustion as a badge of honor.
One day the unrelenting standards she had set for herself finally became too much. Sobbing in a puddle on the bathroom floor, she realized it was time to make a change. She cataloged all of the ways she had tried to feel like "enough" throughout her life and realized one simple truth: She was Enough Already.
Purchase Lindsey Weigle's book, Enough Already, here.
About the Author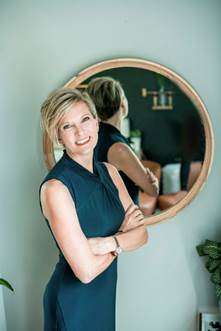 Lindsey Weigle is one of Bluewater Advisory's two partners. Bluewater is an elite firm in the talent management business that adds significant value to organizations throughout the United States in three primary areas: leadership and organizational development; succession planning with comprehensive talent, operational and organizational alignment; and recruitment and selection strategy.
In addition to serving as project lead on various client engagements, Lindsey's passion for organizational development shows in her involvement in workshops, leadership programs and other group and individual training programs.
Webinar Access
Instructions to join the Webinar will be sent to the main registrant's email address the day before.
Remember! please log-in at least 15 minutes prior to the webinar commencing to ensure ample time for technical assistance if needed.