NACM Credit Congress ABI Commission Hearing
American Bankruptcy Institute's Commission to Study the Reform of Chapter 11 hears from NACM members on two key Bankruptcy Code sections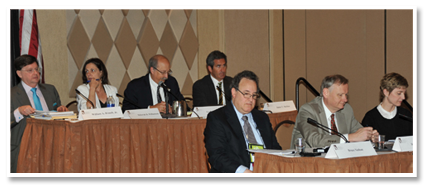 Representatives from the unsecured trade credit community made their case for bankruptcy reform this week when they testified at a May 21 field hearing of the American Bankruptcy Institute's (ABI's) Commission to Study the Reform of Chapter 11, held at the National Association of Credit Management's (NACM's) 117th Annual Credit Congress and Exposition in Las Vegas.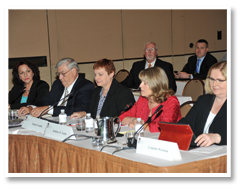 Witnesses from some of the world's largest and most sophisticated companies offered their insights and experiences with the Bankruptcy Code in two separate panels: one focusing on Section 547 of the Bankruptcy Code, dealing with preferences, and another focusing on Section 503(b)(9), a provision enacted as part of the Bankruptcy Abuse Prevention and Consumer Protection Act (BAPCPA) in 2005 that created a special claim for goods sellers that shipped to a bankrupt debtor within the 20-day period preceding their filing.
Generally speaking, what unsecured trade creditors urged the Commission to aim for in the recommendations that they will eventually make for the reform of Chapter 11 is predictability. The way that both Section 547 and Section 503(b)(9) of the Code function is notoriously difficult to predict, and often changes from circuit to circuit. Witnesses on the preference panel argued that the statute should be changed to shift the burden of proof from the creditor to the debtor, and witnesses on the Section 503(b)(9) panel suggested that the claim provided by the statute be preserved because it makes it easier for their companies to sell to distressed debtors.
"The sheer multitude of ways preference defenses can be interpreted and applied can make defending a preference very expensive. There are no firm, fixed guidelines," said Val Venable, CCE, director of credit at Ascend Performance Materials as she testified on the Section 547 panel. "What is permissible in one jurisdiction is not allowed in another. Even two different bankruptcy practitioners within the same jurisdiction can have opposing views and both be right. How then, can a typical creditor defend against a preference recovery if the rules are cloudy and inconsistent?"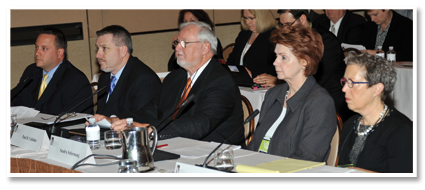 Sandra Schirmang, CCE, ICCE, senior director of credit at Kraft Foods International, testified on the Section 503(b)(9) panel and noted how valuable this provision has become for unsecured trade creditors trying to keep their customers afloat. "The 503(b)(9) process provides a much-needed dose of certainty for unsecured suppliers to continue shipping to a company in the days leading up to their bankruptcy," she said. "In the consumer products industry, we sell on reasonably short terms, so the implications of 503(b)(9) are very important to us from a financial standpoint. I would imagine that it's even more important to smaller companies. Kraft is certainly big enough to absorb any reasonably-sized loss without too much pain, but when you think about smaller companies and other businesses that are operating on thinner margins, the disallowance of their 503(b)(9) claim, or the elimination of the statute altogether, would cause a great deal of damage to them if, say, one of their biggest customers were to file bankruptcy."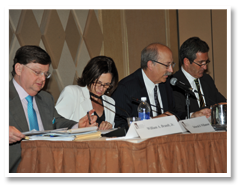 Members of the ABI Commission were receptive to each witness' testimony and the panels engaged with the Commissioners after providing their remarks. A great number of Credit Congress attendees also sat in to watch their fellow credit professionals testify, and the room where the hearing was held quickly overflowed with participants. One Commissioner, William Brandt Jr. of Development Specialists, Inc. thanked the panelists and the attendees, noting that the hearing had "one of the best turnouts we've ever seen," in the Commission's history. More about the American Bankruptcy Institute's Commission to Study the Reform of Chapter 11 can be found at http://commission.abi.org/.
Testimonies
NACM's Preference
Panelists

NACM's Section 503(b)(9) 20-day
Administrative Priority Claim Panelists

Valerie Venable, CCE
Joseph McNamara, CCE, CICP
Kathleen Tomlin, CCE
Paul Calahan, CCE, CICP
Thomas Demovic, CCE, ICCE
Sandra Schirmang, CCE, ICCE
Hearing Video