« Apply Today « Application Process and Tuition «
Curriculum « What to Expect « Instructor Bios
The GSCFM program provides a foundation in disciplines such as financial analysis, valuation, business economics, business law, corporate strategy, treasury management, and international finance and credit.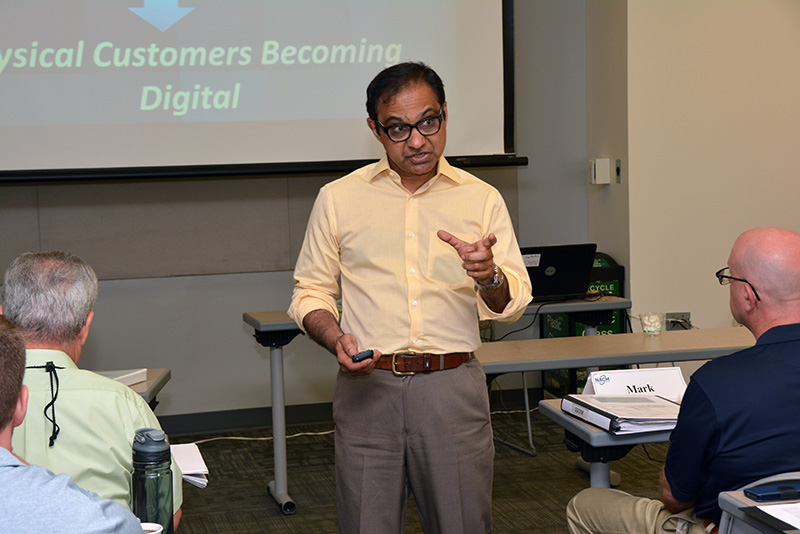 The First-Year Session Concentrations
The cornerstone of the first-year program is financial statement analysis. Complementing the financial analysis program are sessions on corporate strategy, economics, body language and non verbal communications and presentation techniques. These sessions, adding information about how to operate in a changing environment and how to understand and maximize corporate competitive strategy, bring new ideas and greater depth of knowledge to the decision-making process.
The Second-Year Session Concentrations
During the second year, participants will continue to expand their understanding of the financial side of credit during the financial warnings segment. This segment brings together the elements already covered in the first-year session, providing an in-depth look at credit strategy in a competitive environment, focusing on new techniques for credit investigation and credit granting decisions. Adding to these topics are sessions on the legal environment of credit, leadership and etiquette skills, body language and non verbal communications and advanced negotiations. Participants also present their projects and have the opportunity to take the CCE exam.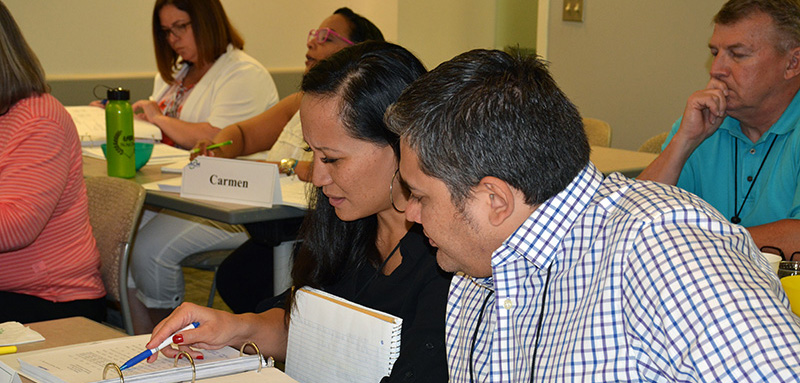 Advanced Financial Statement Analysis

The objective of this course is to make credit professionals better aware of the information contained in a firm's annual report and how to analyze it. An improved awareness equates to improved knowledge about credit risk. An emphasis will be placed on the examination of the annual report's statement of cash flows, the management discussion and analysis section, disclosure notes explaining accounting policy and other significant factors. Through a combination of lectures and case analyses, the course will emphasize analysis and interpretation of cash flows, discovery of off-balance sheet financing, and indicators to assess a firm's liquidity. Problems with some traditional financial ratios will be examined.

Corporate Strategy


Strategic management refers to a growing body of knowledge concerning the effective management of organizations in competitive environments. This particular course will provide a perspective of this field by focusing on three broad themes: one, competitive positioning; two, leveraging capabilities; three, harnessing relationships and networks. The course is designed to emphasize the special role of the General Manager – an individual who has risen in an organization beyond his or her functional base and has assumed broader responsibilities for the coordination of different functional activities and the development and implementation of a vision and strategy for the organization. Through carefully selected cases, this course will offer various cutting edge frameworks that shape the students' thinking on managing the strategic challenges of the modern corporation.

Financial Warnings: Detecting Creative Accounting Practices

Generally accepted accounting principles provide wide latitude in the selection of accounting techniques. Their aggressive and sometimes fraudulent application can cause misleading results, even permitting the reporting of profits where losses may have been more realistic. Whether earnings are overstated due to the aggressive application of accepted standards or because of fraud, economic fundamentals will eventually expose the charade. The end result will be a negative earnings adjustment, a likely net loss for the period and often several reporting periods, and a requisite reduction in forecast cash flow. Through a series of short exercises and case assignments, participants in this course are taught to detect and question potential earnings overstatements, the objective of which is to provide sufficient lead-time to permit corrective action.

Becoming Masterful Influencers


Whit Mitchell and Ron Price return to help 2nd year participants maximize influence. Their sessions will include dynamic communications, the business case for emotional intelligence, strategies for building strategic influence and building a road map for your professional success. By the end of this session, you'll build confidence in dealing with negotiations often required with senior leadership and boardroom executives!

Successful Presentation Skills

Whether you're making impromptu comments during a meeting or giving a formal presentation, there are specific techniques to use that will ensure your success. Learn how to overcome nerves, read your audience, project confidence, use visual aids, and recover if your mind goes blank. Every speaking situation will be addressed from handling Q&A to being persuasive. Participants will receive individual coaching, videotaped examples, and group feedback in a supportive, learning environment.

Legal Environment of Credit

Comprehensive knowledge of business laws specific to the field of credit is critically important to each decision today's credit executive makes on a daily basis. This intensive course will focus on a broad range of advanced legal issues affecting the credit decision. This course will encompass a combination of lectures, readings, case studies and interactive discussions to enable participants to increase their knowledge of the complex issues in corporations, partnerships, sole proprietorships, contracts, bankruptcies, antitrust and negotiable instruments as they impact credit decisions.

Economics

The purpose of this course is to allow business leaders to understand how to evaluate the performance of the U.S. economy both over the long-run and during short-run fluctuations (business cycle).

Students will be exposed to the major economic statistics that business leaders use to analyze the economy and the potential impacts they may have on their own businesses. Beyond just knowing the definitions and how these statistics are constructed, Mr. Strauss will teach the relative importance of specific statistics and how you can use them to help understand and explain changes in the growth path for the U.S. economy and businesses.

The topics covered will include: Growth economics and how business cycles are determined; Key Indicators for the Business Cycle including: GDP, industrial production, financial markets, prices, capital spending, inventories, labor markets, consumer demand, housing markets; Monetary policy and the Federal Reserve's dual mandate (full employment and stable Inflation); Fiscal policy and how important are deficits and debt to the U.S. economy; International trade and will the U.S. dollar remain as the world's reserve currency?; Leading economic indicators; and the importance of bankruptcy and unemployment to the evolution of the U.S. economy.

Interpreting Body Language


Body language expert and former federal law enforcement officer, Janine Driver, is joining us to teach non-verbal and verbal communication techniques that we can use in our everyday and business life. She shows us how to become a powerful leader as well as how to read and fix a situation in five minutes or less.

Power Of Professional Protocol

Business is based upon establishing and maintaining relationships. During this program, we will review and practice the social skills and good graces on which relationships rely. This program will convey to you the basic skills to persuade clients, impress your boss and win over your co-workers. The lessons learned through this etiquette program will provide you with knowledge that will place you above your competition. This program is designed for business professionals seeking to improve their savvy in the working world. We will cover such topics as:

Appropriate Attire
Posture & Body Language
Handshakes & Business Cards
Electronic Etiquette
Meeting Management
Interactions with Others
Confidentiality
Thank You Notes

Painless Networking

While commonly considered a superficial frill of a bygone era, professional networking is an essential professional skill. Come learn how to handle business situations, from conferences to cocktail parties, with poise and confidence. This is an interactive program designed to be both educational and entertaining. You will have the opportunity to practice what you learn in class. We will cover such topics as:

What to Know Before You Go
Nametags: Where They Go and Why
Handshakes: Lessons from Goldilocks
Introductions: What They Say About You
Body Language: What You Are Really Saying
Conversation: Business versus Social
Connecting With Clients and Customers
Building Business Relationships
NACM is proud to have secured these instructors in past program sessions. Read more about the instructors.
| | | |
| --- | --- | --- |
| Wanda Borges, Esq. | Janine Driver | Susan Fee, MEd, LPC |
| Whit Mitchell | Charles Mulford, PhD, CPA | Ron Price |
| Dr. Mohan Subramaniam | | |

Certificate of Achievement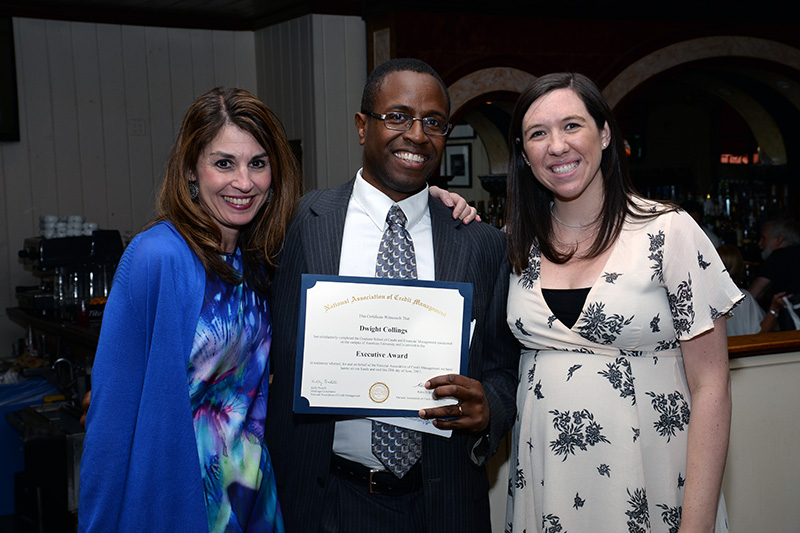 Participants receive the GSCFM Executive Award upon successful completion of all program requirements. Graduation will be held on the last night of the second session.
"I believe that NACM is setting the standard for credit management."
—A 2008 first-year student
Selected by the members of the GSCFM class, the Best Student Award honors the individual who has made a significant contribution to the overall quality of the program, based on class participation and enhancement to the overall educational experience. The award recipient will be honored at the graduation dinner and at the following year's NACM Annual Credit Congress.


Best Practice Insights from the GSCFM Instructors
Follow the Cash
Charles Mulford, PhD, CPA
"It's the strongest signal we have of financial strength or weakness."
Put Connection before Content
Susan Fee, MEd, LPC
"Whether it's a job interview, client presentation or updating your boss, your audience
has to like and trust you enough to listen to your content."
Make the Transition from Classroom to Workplace
Kurt Weiland
"All training, all discussion, all study is worthless—that's right, worthless—unless it
translates into behavior change and workplace improvement."
Don't Take Negotiations Personally
Judith White, PhD
"We automatically respond negatively when someone is rude or defensive or pushes
our buttons, and we just have to keep telling ourselves that we're going to get a
better outcome if we don't take it personally."
Don't Trust the Media with Economic Statistics
Chris Kuehl, PhD
"Most of what we get is either not very well explained or it's out of context."
Think Critically in Ethics
Diane Swanson, PhD
"Put aside your assumptions and approach scenarios with fresh eyes and come up with
practical recommendations."