Application Process and Tuition Investment
GSCFM | Apply Today | Application Process and Tuition
Curriculum | What to Expect | Instructor Bios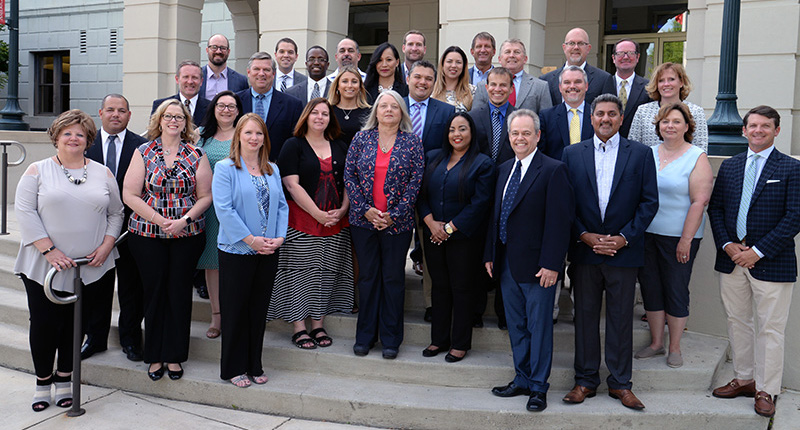 Who should apply:
Professionals with a broad range
of mid to senior level experience in the field of credit or financial management
Individuals who aspire to greater
responsibility within their organizations
Professionals who are committed
to creating lasting business relationships
People who would like to enhance
a four-year undergraduate
degree or an M.B.A.
To apply for admission to the GSCFM program, complete the Application for Admission and submit it to NACM-National at the address below. A $500 application fee, made payable to NACM-GSCFM, must accompany the application form. This fee will be applied to the participant's tuition upon acceptance to the program. Applicants not admitted into the GSCFM program will receive a refund of the application fee, less a $100 processing fee.
To encourage early enrollment, an early bird rate of $5,500 is reserved for applications received by February 1st. After this date, the tuition cost is $6,250. This fee covers the cost of books and materials, instructional fees and use of the school's facilities, dorm rooms, linen service, athletic passes, three meals per day and beverage breaks. The second-year session tuition is $5,850. Due to programming and facility commitments for second-year students, a tuition refund of 50% of the tuition cost is applicable after December 1st of the student's first year.
Grad School Pricing
Before February 1st
After February 1st

Year One

$5,500

$6,250

Year Two

$5,850
A letter of recommendation from the candidate's employer or immediate supervisor must be attached to the application form. In addition, a photo (passport, clear digital or driver's license), and a current resume must also accompany the application form. This information is provided to the faculty in order to help them prepare for the class.
All applicants will receive formal notice of admission to the program within three weeks of application. An invoice for the tuition balance, room and board will be sent following this notification. Payment is due upon receipt; tuition must be paid in full prior to the start of the program.
Application Checklist
Application form and deposit
Corporate support of a two year commitment
Letter of recommendation
Photo

Resume
Mail completed application package to:

NACM-GSCFM
8840 Columbia 100 Parkway
Columbia, MD 21045-2158

Email completed application package to:

Mellisa Smith at This email address is being protected from spambots. You need JavaScript enabled to view it.
Financial Scholarship Assistance
The NACM Scholarship Foundation, Inc. provides scholarships for financial assistance (partial funding) for first-year GSCFM students. The Professional Advancement Scholarship (PAS) is designed to support first-year students who meet all GSCFM entry standards, and are committed to the rigorous educational studies expected of its participants. Recipients must attend the full two-year program. Scholarship amounts are determined based on need and availability of funds. Please visit the NACM Scholarship Foundation, Inc. web page to learn more.
Refund and Cancellation Policy
Due to the inherent costs associated with establishing and holding this program, no refunds are available after April 1st. Prior to April 1st, tuition fees, less a $500 processing fee, will be refunded for written cancellations. For questions, comments or to confirm administrative policies, please contact the NACM Meetings Department at 410-740-5560.
American University is not a sponsor or co-sponsor of the NACM Graduate School of Credit & Financial Management.
Continuing Education (CEU) Information
The Education Department of the National Association of Credit Management has reviewed the educational content of this advanced-level program. Participants attending this program will earn continuing education units (CEUs) each year, all of which are valid for CCE recertification points.
These continuing education units have been awarded in accordance with the standards recommended by the International Association for Continuing Education and Training. The CEU is a nationally recognized unit designed to provide a record of an individual's continuing education accomplishments. One CEU is awarded for each 10 contact hours of instruction.