General Information
Cost: Members: $95
Nonmeners: $195
Registration Includes: One telephone and web connection at one physical location
---
Time
US: 12:00 pm PT // 3:00 pm ET
*Please remember the time zone differences if you are not on the East Coast.*
About the Webinar
Taking care of your mind, body and spirit during work hours can feel tough, but finding the space to prioritize your well-being does not only benefit you--but paves the way for more productivity that benefits your company.
During this session, Certified Life Coach and Yoga Teacher Hailey Zureich will offer attendees best practices and exercises they can use to destress, regulate energy levels and at-your-desk mini exercises to energize the body throughout the day.
About the Speaker
Hailey Zureich, zHailey Coaching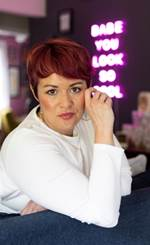 Hailey Zureich is a certified Life Coach with 13-plus years of professional training and development experience. Her passion is in helping empower folks with tools to engage with others, elevate their skills and connect with themselves.
Webinar Access
Login instructions are sent to the registered attendees email address in a calendar invitation at the time of registration.
Please email This email address is being protected from spambots. You need JavaScript enabled to view it. with questions.