Chairman's Message
Meet Your 2021 National Chairman
Janine Sabo, CCE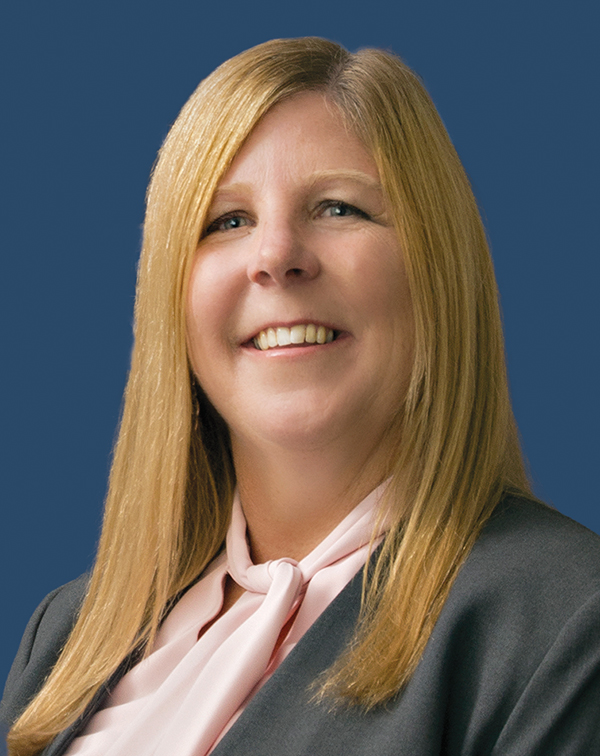 For nearly a quarter of a century, credit professional Janine Sabo, CCE, has spent her career pursuing opportunities. Whether it was during her short stint as a flight attendant or her post-college days as a local credit union clerk, Sabo sought out any opportunity to improve her given industry. Eventually, she entered the world of business credit and a long-term position at highway construction and materials company Branscome Inc. Sabo said she found joy in her professional opportunities over the course of her journey—a feeling she anticipates will continue as the 2021 NACM-National chairwoman.
A 1996 graduate of Christopher Newport University in Virginia, Sabo kicked off her career in business credit three years later when she was hired as an accounts receivable (A/R) specialist for Branscome. Today, Sabo holds the title of corporate credit manager for the company, an achievement she said wouldn't have been possible without the influence from NACM and its members.
"When I came on in 1999, the accounts receivable manager at the time was a strong advocate for NACM," Sabo said. "She attended all of the industry group meetings, utilized NACM's educational opportunities and taught me very early on about the benefits of the organization. As the time came where she was looking at other opportunities, she introduced me to NACM and I started attending industry group meetings."
Sabo said her participation proved extremely valuable as she climbed the ranks from an A/R specialist to A/R department manager to corporate credit manager in the first six years of her career. Having only been with her company for nine months prior to becoming the A/R manager, Sabo said the change in positions was "like drinking from a fire hose" as she learned a new position, a new company, and her teammates and customers all at once. To be successful, she had to master the inner workings of the department and the company, evaluating and improving processes, getting input and buy-in from other departments, empowering her team and maintaining her work/life balance.
Having knowledgeable conversations with her peers helped Sabo grow professionally. NACM taught her how to use real-time credit data to recognize potential trends and come to a better credit decision. The more meetings she attended, the easier it became to identify negative trends with customers and quickly come to a sound decision to address the problem.
NACM's educational opportunities, such as its certification courses, added to Sabo's professional growth, most recently earning her CCE in March 2020. Gaining the CCE certification was as much a personal goal as a professional one, Sabo said.
"For years, I wanted to work up the certification path, but never seemed to find time to pull the trigger," she said. "After finally submitting the application with a tight timing deadline, I decided to take the plunge and go straight for the CCE."
For anyone who is thinking about earning a designation, Sabo encourages credit professionals to step out of their comfort zone and go for it.
"There are many resources for us at NACM to help during our professional journey, whether it's people within their network offering encouragement, new Credit Congress colleagues sharing experience, or classes offered at local affiliates or NACM-National, for growing our knowledge," Sabo said.
Sabo models the idea that working toward a designation shows commitment to professional and personal growth.
"I am one of those people who feels it is very important to continue to educate myself throughout the process," she said. "Nothing ever stays the same and if you're not learning, you're not growing. The way I think about it is if I go to a class or attend a conference, if I've learned one new thing or have built one new relationship, it's well worth the time and the money. That will take you far into the future, especially the relationships."
Her desire to pursue opportunity led Sabo to take on leadership roles on local boards and serve in other chair positions; however, serving as the national chair was a goal unlike any other because it was a chance to guide NACM toward a bigger and better future. If 2020 has taught credit professionals anything, Sabo said, it's that the industry must be prepared for change. Credit professionals are being asked to do even more whether it's because of downsizing or impacts to their industry. Past chairs successfully accomplished preparing NACM for the future through strategic planning and Sabo said she wishes to be a part of the process.
"I hear feedback from the members on what has changed in the credit profession, specifically that we don't just 'do credit' anymore," she said. "I want to make sure we offer any educational benefits to our members that emphasize the changing times."
Sabo said she feels prepared to take the reins of the national chair, noting her ability to observe processes and topics from all directions. The credit manager said her career has shown her how to analyze processes from every angle and how one slight change can cause an impact. Former chairman Ty Knox, ICCE, said it is this quality that will make Sabo a great successor.
"She brings a wealth of credit knowledge to the position and has a calming demeanor," said Knox, the director of credit and risk at EFCO Corp. "I know she will carry the torch of strategic planning that was lit during my tenure as chairman, while continuing to find new ways of adding value to NACM's members. The association is lucky to have her leadership and I am looking forward to supporting her as the immediate past chairman throughout 2021."
Sabo and Knox agreed that NACM has a very strong board, with each of its members bringing something different and unique to the table. NACM members are the most important focus and asset, Sabo added, and with everyone's knowledge, there is valuable information that will be used to create greatness.
"Whether it's something as simple as a class to offer or a five-year plan, each board member plays a part with their individual opinions and where they see themselves and their industry," Sabo said. "Between our board and the challenges we've had this year, we have a very bright future ahead of us."