Chairman's Message
Meet Your 2022 National Chairman
Darrell Horton, ICCE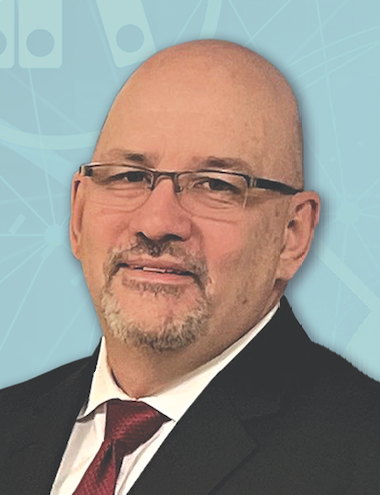 The credit profession touches nearly every aspect of business. It is that far-reaching scope that makes Darrell Horton, ICCE, so passionate about the work he does. "There is nowhere else you can learn more about a company and what it provides than the credit department because everything lands on our desk at some point," he said.
In January 2022, Horton, director of credit at Litigation Services, LLC (Las Vegas), officially will take over as chairman of the National Association of Credit Management's Board of Directors.
Horton started his business credit career as a manager of a rent-to-own store and other various retail companies. During his time as a general manager, he was presented with several credit tasks that helped prepare him for a position in an actual credit department. "This gave me my first taste of credit and collections and quite honestly changed the course of my career," he explained. "In rent-to-own stores, you are heavily involved in granting credit and performing collections because you are basically financing the purchase of merchandise and collecting on the agreement if they did not pay. This was really my first exposure into credit and collections."
Horton acknowledges that a career in business credit comes with challenges, but the lessons he has learned by overcoming those challenges are ones that he can apply to life in general, he explained. "Credit has taught me to never take anything for granted in life and to look at situations from every angle," he said. "I have always been the person that would just do what ever needed to be done. Credit and collections many times to falls to those types of people because no one else wants to do it."
Some of the toughest challenges Horton has faced was getting others in his company to see the importance of a strong credit department and to change how they perceived the department. "Figuring out how to gain respect for my team from both upper management and the sales staff was difficult at times," he said. "Overcoming those stereotypes is a constant and slow process."
One of the most successful ways Horton has found to change the stigmas around credit departments is to show by example. "You have to be ready as a credit professional to be a resource of knowledge for others in your company. Show that you want to support the sales team," he said. "Show that you are on the customer's side."
Make a point to go out of your way to show how essential the credit team is instead of being defensive when someone has a misconception about your job. "As a credit professional, we need to show that we are not just about making our jobs easier by only taking on low-risk accounts," Horton said. "But that instead we want to work with as many people as possible in as many ways. When people around you see this, it will change the perspective of the credit department from being the 'sales prevention department' to being part of the sales- and customer-relation department."

Horton has always been eager to learn more about the credit and collections function so that he can be the best at what he does. When it came time to advance his credit career, he turned to the National Association of Credit Management, which quickly became like a second home, he said. "This is where I found my mentors who helped me grow my career. Without the mentors I found within NACM, I would not be half the credit professional I am today. Especially when I was a newer credit professional, having others to learn from was invaluable."
As NACM Chairman, Horton plans to use his nearly 30 years of credit experience to strengthen the organization further. "I have several goals to make sure that NACM comes out on the other side of this pandemic as strong, if not stronger, than when we entered it."
Among Horton's main goals is to support the younger generation of credit professionals. "I plan to help NACM adjust to the ever-changing business world," he said. "We must be able to keep up and adapt or we will become irrelevant. To do that, we need to encourage and find ways to connect to the incoming credit managers." Horton plans to boost engagement with younger credit professionals by using member-driven thought leadership groups and committees to help connect members. "We need to get more people involved in NACM in every way we can," he added.
Prior to becoming National Chairman, Horton served on the National Board of Directors for the past five years. He also served as director, treasurer and chairman of his former NACM affiliate for more than 12 years. "I believe in NACM and what is stands for," he said.
Horton has watched the organization change and grow over the past several years and is excited to be such a key player in helping NACM continue to expand throughout 2022. "It is extremely important to have the educational opportunities through certification and through mentors that you cannot meet anywhere else."