Over the years, the National Association of Credit Management Honors and Awards have become an important mechanism by which we recognize our colleagues for the outstanding efforts they have made on behalf of the credit profession. Below find out more about our Honors & Awards Program.
Nominations
2016 Recipients
Award Details
Award Archives
Nominations
Do you know anyone working in the field of credit management whose professional life displays unquestioned integrity, outstanding and meritorious service in the field, and ongoing dedication to the highest standards of the credit management profession?
Click below to nominate a special credit professional.
Nomination period ends January 22, 2016.

Nominations Form
Nominations Instructions
Award Details
O. D. Glaus Credit Executive of Distinction
In February 2010, a revered leader and visionary within NACM, O. D. Glaus, passed away. NACM can think of no better way to both memorialize and honor O.D. than to continually identify and honor those that reflect his vision, energy, commitment and love for the credit profession. Therefore, in May 2010, the National Honors & Awards Committee, with an endorsement from the National Board of Directors, renamed the National Credit Executive Award the O.D. Glaus Credit Executive of Distinction.

As with the National Credit Executive Award, the O.D. Glaus Credit Executive of Distinction seeks to acknowledge exemplary professionals within the field of credit. The nomination criteria have been honed to seek those that emulate O.D.'s legacy. The award will be bestowed annually in tribute to O.D. and to recognize remarkable professionals within the NACM organization.
Designation of Excellence Awards
The Designation of Excellence Awards were created to honor designation holders at three distinct levels: the CBA, CBF and CCE. Each honoree must have an unrelenting pursuit of excellence through enhanced and improved knowledge. Equally important is the desire to share that knowledge through speaking, teaching or mentoring.
GSCFM Award
NACM's Graduate School of Credit and Financial Management acknowledges an outstanding participant each year in its Student Leader award (formerly the Best Student award).
Alice M. H. McGregor Award of Exceptional Achievement

This award memorializes one of NACM's great leaders, Alice M. H. McGregor, CCE.
In her honor, this highly prestigious award recognizes creative approaches and consistently high performance by credit practitioners that benefit the recipient's company, affiliate, the national organization and the business credit profession. Alice M. H. McGregor award recipients serve as role models; they are leaders rather than followers, set standards for others, and apply their professional expertise outside of their companies.
You need only to look at Alice's vast and reaching accomplishments to understand what embodies this award: Alice was educated at Edinburgh Business College and the London Graduate School of Business. She was the first woman to receive the CCE designation and graduated from NACM's Graduate School of Credit & Financial Management in 1978.
She joined Puget Sound Salvage & Equipment Company in the credit department, and by the time it became known as Pacific Industrial Supply Company, she was a co-owner. Ultimately, Alice became the President of Pacific Industrial Supply Company.
She was well known for her dedicated service within her local Affiliate, NACM Business Credit Services in Seattle, Washington, where she was a member for 29 years. She served in many volunteer capacities, including Chairman. She led many seminars, sharing her knowledge and expertise, and was a mentor to everyone she knew. In 1985, NACM Seattle honored her as their Credit Executive of the Year.
She was a leading figure in NACM-CFDD Seattle and was named Credit Woman of the year in 1976. Alice served as National Chairman from 1989 to 1990. When asked about the secret to her success, Alice would always simply say, "hard work."
2016 Recipients
O.D. Glaus Credit Executive of Distinction Award
Judy Wagner, CCE
Director of Corporate Credit
Roche Diagnostics Corporation
CBA Designation of Excellence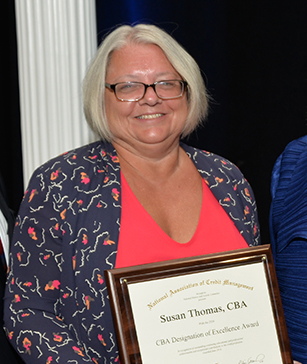 Susan Thomas, CBA
Consultant - US Credit Management
Eli Lily and Company
CCE Designation of Excellence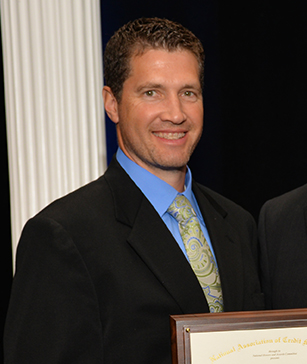 Shane Norman, CCE
Credit Manager
Wheeler Machinery Co.
2015 GSCFM Student Leadership Award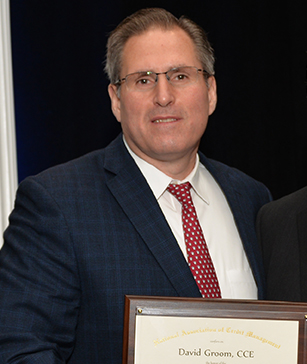 David Groom, CCE
Director of Credit Operations
Allied Building Products Corp.
CBF Designation of Excellence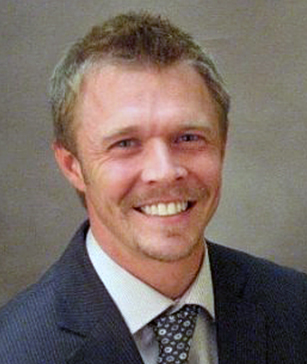 Jason Sanborn, CBF
Credit Manager
Lubrication Technologies, Inc.