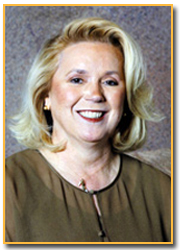 National Commentary
Dawn Wallace Cook, CCE
I would like to start my year as Chairman talking to you about membership, and what it means to me.
Webster's Dictionary defines membership as a noun meaning "the state of being, a member", "members collectively, as of an organization". To take it a step further, and paraphrase from Webster's definition, a member is "a distinct part of a whole", "belonging to some association, community, party, etc."
I like that..."distinct part of a whole". That says to me that there are two elements in the concept of membership: one is the member, and the second is the "whole" or in the case of NACM—a group of affiliated associations that make up one large national organization. We can't have one without the other.
Since the beginning of time, people have come together, whether as a trade group, political coalition, medieval guild, cooperative, or as a credit association to promote a common interest or goal. As you know, NACM was founded 108 years ago by a group of credit executives to promote honest, sound and fair credit practices throughout the United States. Since that time, NACM has expanded to become an association with global reach. We now include in our membership NACM-Canada, NACM-Mexico, an affiliate in Puerto Rico and—through FCIB—we have offices in London, England and member companies across the world. However, our goal to promote honest, sound and fair credit practices has not changed.
In 2002 NACM-National adopted the marketing theme "Strength in Numbers". But it is more than just a marketing theme: it is a statement of our philosophy—there is strength in numbers. The whole of our membership gives our association the strength to accomplish great things—the strength to push credit-related initiatives through Congress, the strength to "brand" NACM as the premier credit association throughout the world and the strength to bring global recognition to professional credit designations, among other initiatives.
For me, first and foremost, NACM is a business resource that I turn to for products, services and education. I encourage you to learn more about how your association can help you. Discover how the Asset Protection Group can prevent your organization from making (just) one mistake that could end up costing thousands of dollars, or how the Government Business Group can alert you to regulation changes that, unless you knew about them, would prevent you from getting paid for work done for the Federal Government. Learn how CFDD can provide local training, networking and mentorship opportunities for new staff, or how FCIB can put you in touch with a colleague in Europe to explain something your local contacts have not had experience with. Another valued resource within the NACM family is the Credit Research Foundation: if you're looking for statistical data for benchmarking, it is likely they can assist you.
I also encourage you to consider the total NACM membership as a resource. What better credit reference could there be than another credit professional? As a small business owner, there have been times when my business experience did not have enough depth to solve a particular problem. Through my NACM network, I felt comfortable in contacting another credit professional to find a solution. If the individual I called was unable to help, they directed me to someone who was able to provide me with the needed information. And now, with the new NACM Resource Library up-and-running, my depth of resources has expanded. How convenient to simply logon to my computer, type in a key search word or term, and receive a comprehensive explanation within seconds!
Our jobs as credit professionals have changed dramatically over the past few years. Today's credit professional wears many hats: customer service, treasury, sales and of course, credit. I suspect all of us have dealt with—or are dealing with—change in our work environments. Technology has made change a staple in all our lives, and it is likely to continue to evolve ever - faster. It is up to us as individuals to keep up with the pace of change and prepare ourselves for an evolving future in the workplace.
NACM can be your solution. Get involved: participate on your local or national board or serve on a local or national committee. Help by participating in the NACM Credit Manager's Index (CMI) each month, thereby drawing media attention to the importance of the credit profession. Your participation is key to the success of NACM. Who better knows the needs of today's credit professional than you, the member? Volunteer! Get involved! Spread the word! You, the member—that distinct part of a whole—are instrumental in the achievement of our association's goals; and ultimately, our success.