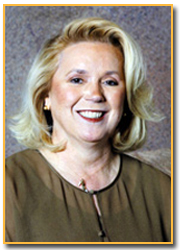 Change: The 6th "C" of Credit
Dawn Wallace Cook, CCE
While at the NACM Central Region Conference in 1998, I attended an educational session on the changing role of the credit professional—and was astounded by some very interesting statistics. If you were to gather all the knowledge in the world at the end of the 16th century, it would double in just 200 years. In the next 50 years, it would double again, and from 1950 through 1960 (just 10 years) it would double again. In 1998, the world's knowledge base was doubling every six months. Now it is being measured in nano seconds! I don't have a clue what—or how long—a nano second is, except it must be faster than a speeding bullet!
Most of you reading this do not have any first-hand memory of Pearl Harbor; many of us were not even born yet. Therefore, you would have no way of knowing that it took three hours for the news of the attack on Pearl Harbor to reach the mainland, and twenty-four hours before President Roosevelt addressed the nation, broadcast to the world, via radio.
On September 11, 2001, one minute after the first attack on the World Trade Center, CNN began live national television broadcasts. Millions were "real time" witnesses to terrorism… and America under attack. In less than 12 hours, President Bush addressed the nation via TV. An estimated 80 million viewers watched.
This is a very strong example of how technology has changed our world from the world of our parents.
In my article last month, I touched on the subject of change, and how the role of today's credit professional has changed as a result of technological advances. For some time, I've thought change should be the sixth "C" of credit. No longer will credit procedures and policies remain the same from one year to the next. Every day brings changes to the tools and techniques we use in our daily business routines.
The focus of this month's Business Credit is Collections and Deductions. There's an old adage I have posted on a wall in my office. It reads: "A sale is not a sale until the money is collected". All of us are very aware of the importance of the timely collection of our accounts receivable. Past due receivables are a drain on company cash flow and can adversely affect the company's financial objectives.
In preparing for this article, I knew I had some research to do. I turned to the NACM Resource Library, clicked on Business Credit magazine, and discovered that the Resource Library has archived all Business Credit magazine issues dating back to 1995. I typed in "collections" and hit the search button. Four hundred eighty-eight matches were returned. Talk about your resources!
Want to know the basics of collections? Read the February 2002 article written by Mike Ryan, President of the NACM Southeast Unit titled "Back to the Basics". Mike provides sound, practiced techniques for successful collections while maintaining goodwill with your customer… the source of your company's profits. The June 2004 issue of Business Credit has an article titled "The Do's and Don'ts of Collections". The Credit Research Foundation also has an excellent section in their Technical Reference Manual titled "Principles and Methods of Collections". These three articles are an excellent start in your research.
Don't have the staffing available to do your own collections? Let me first recommend outsourcing your collection work to one of our many capable affiliate operations. We currently have 40 affiliate offices within the NACM family who handle collections. Need help in determining who is best suited to handle your work? Rod Wheeland, President of NACM Business Credit Services, wrote an article for the February 2002 Business Credit magazine titled "Qualifying Your Collection Agency: Asking the Right Questions". Or you can read the February 2004 article by Michael Dennis, MBA, CBF, titled "Choosing a Commercial Debt Collection Agency". In the last paragraph of his article, Mr. Dennis states some advantages of using an NACM affiliate: instant creditability, honesty, trustworthiness, professionalism.
Or, perhaps before you try outsourcing, you would rather explore the possibility of automating your collection process. The Business Credit February 2001 issue has an article titled "Automating Collections" and the September 2002 issue has an article titled "Credit and Collection Software Overview".
Whether you need a refresher course for your staff, need help in deciding if automation is right for you, or need help in selecting the right collection company, make NACM your first stop. Let the NACM Resource Library provide you with background information to assist you with your decision. Check the NACM web site for listings of the wide range of self-study courses and teleconference seminars. Look on the NACM calendar for upcoming regional conferences. Plan to attend the 2005 National Credit Congress in New Orleans, June 12-15! Not only are there educational sessions on almost every credit function, but there will be over 100 credit software and service providers in the Expo Hall to demonstrate their services and/or products to you.
As our world expands globally, and technological advances bring "virtual" collections closer to reality, Credit (and Collections) is going to be a very exciting career. The challenges will be enormous, but so will the opportunity for breakthrough performance and results. The Credit professional who is willing to act and stretch themselves, and who is not tied to old habits, will enjoy the most exciting and rewarding time of their credit career.