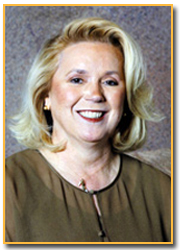 Time for Reflection
Dawn Wallace Cook, CCE
Dear Members,
I would like to start by saying thanks to you, the membership. As another year draws to a close, I'm reminded of the opportunities I've had to meet and work with many of you throughout this past year. I am continually impressed by what a great organization this is, with so much to offer those who participate.
The world continues to change, and each day continues to bring new challenges to all of us in the credit profession. And even though times are much different from what they were in the early years of this organization, NACM still exists, after 108 years, to provide the opportunity for credit professionals to share experience, increase their knowledge and expand their skills. NACM continues to strive to meet the changing needs of Members with high-quality programs, services and support. We have inherited a wonderful heritage from those who founded this Association, and NACM remains steadfast in its commitment to continue to carry forward and support the vision and the principles upon which it was founded for future generations of credit professionals.
NACM continues to deliver best value services to Members in education, conferences and services. The success of the Association is dependent upon your participation. I encourage all Members to attend Credit Congress and other educational events throughout the coming year, to join a committee, become part of an industry credit group, or mentor a new member: the more you participate, the greater benefit you derive. The coming months promise great programs
and opportunities to upgrade your skills and expand your knowledge… take advantage of as many as possible.
I encourage you to take the opportunity to look back on 2004 with pride for both your personal achievements as a credit professional, and as a Member of this great Association… and to look towards 2005 with great anticipation for even better things yet to come.
On behalf of the entire NACM leadership, I wish you a Happy Holiday season and a prosperous New Year.