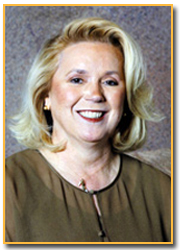 Something To Look Forward To
Dawn Wallace Cook, CCE
Can you remember your first day of school? I'm sorry to admit that I can't remember my very first day. My daughter's—yes; my grandchildren's—most definitely. But mine? No. I can recall anxiously anticipating the start of the new school year, though. It was a balanced mix of looking forward to renewing friendships after summer vacation and the challenge of new classes and learning new things. I consider myself fortunate in that each fall I would again find myself anxiously anticipating the adventure of a new school year.
Education has always been part of my life, starting with grade school through college, and finally, adult continuing education. My first "real" job was working part-time after school at the local market. The last 30 years have been in the credit arena. I learned early-on that education was key to my professional growth and advancement. Once I landed in credit and knew I would stay, I turned to "the expert"—The National Association of Credit Management. I attended my first Credit Congress 20 years ago in Detroit, and have not missed one since! It was everything I had hoped for, and more. And now, each year I anxiously wait for Credit Congress so I can renew friendships and look to the challenge of learning new credit management techniques and processes.
Each year the NACM National staff provides a wide range of programs to enable each attendee to develop their own class schedule based on their personal skill level and need. This year, the 109th NACM Credit Congress offers many sessions in Financial Analysis, Credit & Technology, Credit Management, International Credit, Business Skills, the Legal Environment of Credit, Industry Specific Programs and much more.
NACM strives to bring the conference attendee the most topical and relevant educational offerings possible. Just found out that you will now handle your company's international credit department? Attend "Introduction to International Credit": learn the basic tools and concepts needed to succeed in an international credit environment. Also plan to attend "What you Don't Know CAN Hurt You - U.S. Regulatory Compliance for Domestic and International Trade. The credit department is key in managing compliance to the various U.S. government regulations, such as OFAC, the Patriot Act, customs regulations and more. Perhaps your company's first international venture will be in Mexico. Don't miss "Doing Business in Mexico", presented by Ignacio Gonzalez, attorney and President of NACM-Mexico.
Looking for ways to strengthen your position within your company? Attend one of the certificate sessions: Business Credit Principles or Financial Statements: Interpretation and Credit Risk Assessment; or take the Certified Expert Witness Program. Are you getting ready to sit for one of the designation exams? Plan on attending one of the three designation exam review sessions. Up for a promotion? Tuesday's Super Session, "Integrity-Driven Leadership" is a must-attend.
Doing business with the U.S. Government? Stop at the NACM booth and talk to Debra Carroll, Director of NACM's Government Business Group. Learn about electronic commerce initiatives at the session Department of Defense: E-Commerce, as well as the USDA Payment Process session. Are you a member of your company's strategic planning team? Do you work on internal issues such as software providers? Be sure to attend the Expo and talk with over 100 credit service and product providers. Browse NACM's Bookstore display, with copies of books developed expressly for the credit professional. When you plan your schedule and find two sessions you want to attend are scheduled at the same time, don't worry. Most of the educational breakout sessions can be ordered through the Bookstore in CD format.
Now, we all have heard the old saying, "all work and no play makes Jack (or Susie) a dull boy (girl)". Not to worry: after a full day of self improvement and learning, we have just the solution. Join us Sunday afternoon for the Expo Grand Opening/Opening Reception. Another great networking opportunity is the Beer & Browse on Monday, 5:00 - 6:30pm in the Expo Hall. It's a great way to network with fellow attendees and interact with credit vendors. Wednesday evening is the Closing Night Mardi Gras Party; a final opportunity to relax and network with fellow members. I hope you will come to Credit Congress for the education, first and foremost; but also, for the opportunity to renew friendships and make new ones. Whether you are a first-time attendee to the 109th Credit Congress this June, or a 20-year veteran like me, I guarantee you will come away with the tools to help you achieve your goals.
NACM is committed to providing you, the credit professional, the tools necessary to maximize your potential for success. If you are unable to attend Credit Congress this year… perhaps your travel budget is restricted… I encourage you to take advantage of the many educational offerings available via teleconference and online courses. In the January issue of Business Credit, you will find a listing by month of all educational programs, seminars, conferences, teleconferences and online courses available through your association for 2005. Take advantage of these excellent educational opportunities, strengthen your credit knowledge base and position yourself for professional growth and success.
I hope to see you at the 109th Credit Congress in N'awlinz this June!