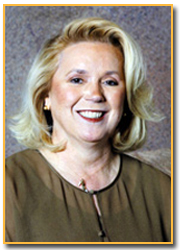 Chairman's Message:
Dawn Wallace Cook, CCE
In my September 2004 article, I talked about Change being the sixth "C" of credit. In writing my last article as your National Chairman, I look back over the past few months and recall the many changes that have taken place… from changes in credit practices and how they affect our jobs as credit professionals, changes in federal laws and how they affect us in our work place, changes in the world markets and how our industries are affected, to changes in the structure of NACM.
Last September, NACM held its Annual Legislative Conference in Washington, DC. Although attendance was not as high as hoped for, the collective voice of the attendees was mighty. Our voices were heard! This year, after many disappointments, Congress and the Senate approved Bankruptcy Bill S.256; and on April 20, 2005 President Bush signed the bill into law. This bill contains the most significant changes to the federal bankruptcy law since the enactment of the Bankruptcy Code in 1978. If you go to the NACM website, you can read an excellent article on this bill written by Wanda Borges, Esq. and Bruce Nathan, Esq. Change.
The Check Clearing for the 21st Century Act, commonly known as "Check 21", became effective October 28, 2004. It was designed to foster innovation in the check clearing process and to improve the overall efficiency of the payment system. As federal legislation affecting all states, Check 21 has changed the method by which checks are processed and also the technology of check payment and acceptance. Change.
Third World, emerging markets affect us daily. U.S. companies that have traditionally been industry leaders find themselves struggling for market share. Revenue loss forces companies to look for cost-saving practices. Technology and reduced labor rates have driven many traditional in-house credit processes to India, Jamaica or the old eastern bloc countries. The May issue of Business Credit has an excellent article on India and it's emerging economic strength. Change.
Your National Association is also evolving and changing to meet the changing needs of the credit professional. Last year NACM launched the Resource Library. A goldmine of information to the credit professional—and updated continuously—it is a huge success. If you haven't used the Resource Library yet, I highly recommend you give it a try. You will not be disappointed.
This year, NACM obtained 501(c)(3) status. You may have noticed a box regarding NACM Scholarship Program contributions on this year's Credit Congress registration form. Once NACM obtained 501(c)(3) status, a scholarship application was developed, as well as guidelines for selecting winning applicants. Your contribution and your company's contribution to the Scholarship Fund are now tax deductible. As well a silent auction being held during Credit Congress will raise money for the Scholarship Fund, as well. Some of the items donated to the Silent Auction to date range from weekend getaways to golf clubs, DVD players, digital cameras, NACM Regional Conference Registrations, FCIB's Online International Credit & Risk Management course, CRF Library of Books, NACM teleconferences, and much more. I hope you will participate in this auction, helping to insure the success of the Scholarship Fund. Be sure to look in your monthly Business Credit magazine for the announcement of scholarship application deadlines.

NACM is 109 years old. As the years have passed, our national structure has changed to meet the needs and demands of the member as well as the credit community. This year your Board has decided that we, as an association, can better serve our members and the credit community by changing the structure of the National Board. It is our hope that the addition of affiliate managers to the Board will add frontline member experience and strong leadership expertise. Working as a team together can only make our association more cohesive and successful. Change.
I've given you a few examples of changes that have taken place during the past 12 months. The one constant in all of these changes is NACM. Need additional information on the Bankruptcy Reform Bill or Check 21? Visit the NACM website or the online Resource Library. Still unclear on preference issues, or letters of credit? Sign up for one of the many NACM teleconferences held throughout the year, an inexpensive way to gain cutting-edge information and have your questions answered by experts. On global issues, stay one step ahead of management by reading the International Section of Business Credit each month. Feeling the money crunch at budget time and can't get approval for conferences? Be sure to send in your application for a National Scholarship. You can't win if you don't apply! NACM… the one constant in your changing world.
As the clock winds down and my term draws to a close, it is with mixed emotions that I finish this last article as your National Chairman. I have been serving on NACM boards—either locally or nationally—for the past 15 years. It has been a wonderful and rewarding experience and I'd like to think I have made a difference. Whatever small success I can claim though, would not have been accomplished without the help of the many fine credit professionals who served with me during this 15-year period. I would list them, but that would take too much valuable space. However, I would be remiss if I did not acknowledge one individual who has worked diligently by my side, helping me when needed, offering counsel and advice; and that is our President, Robin Schauseil. I also want to thank the entire Board for their contributions. I could not have wished for a more qualified group of individuals to serve on the National Board. Every member brought something of value to the table, and I applaud their efforts and extend my heartfelt thanks. I would also like to thank and acknowledge the hard work of the NACM staff. There are many behind-the-scenes activities that are required to get a project or new initiative up-and-running of which most of us are not aware. My thanks to the staff for all their hard work and support these past 12 months. It is truly appreciated. And last, but most definitely not least, my thanks to you—the member. Without your support and involvement—from serving on your local board, the national board, committee work, or simply attending an educational offering or conference—NACM would not be the premier credit association it is today. Thank you all.
I hope to see each of you in New Orleans!