Dawn Wallace Cook, CCE - May 2005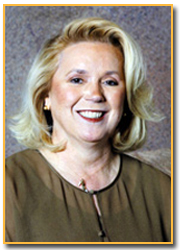 Spring Rituals And Self-renewal
Dawn Wallace Cook, CCE
Spring. For each of us this word brings many thoughts to mind. Spring forward, means changing your clocks. Each spring and fall I remind myself I have too many toys as I change the clock on multiple TVs, VCRs, DVD players, cars, appliances, various watches, not to mention the numerous clocks at home and the office. Next is the spring cleaning ritual when we open windows to let the closed-in winter air out and new, fresh air in. Spring also means the renewal of the gardening cycle. We rush outdoors to remove the last remnants of winter, trimming away dead growth from last year's plants and shrubs, raking the debris accumulated during winter storms. We bring in new mulch for the flower beds, turning the soil in anticipation of the day we can plant this year's selection of annuals to brighten our landscape.
I want to suggest a new rite of spring: SELF-RENEWAL. Many of us, inspired by the warmer days and fresh air, find our way outdoors to the walk/bike trails. We reenergize our bodies through exercise, and hopefully renew our physical selves and our spirit to meet the challenges of everyday life. Larry Winget, a self-described "philosopher of success", who will speak at the General Session at this year's Credit Congress, adheres to the philosophy that we should "Live By Design, Not by Default". Mr. Winget advocates having a plan for life—not just a plan to get through today. He's right. Just as you plan your flower garden to get the best results, you need to know what you want out of life before you can start realizing your goals.
While I do not have the skill-set to help you improve or enrich your personal life, I can set you on the right path for professional enrichment very simply—NACM. There is a wealth of opportunity available through your Affiliate and your National Association to help you, whether you have already developed your plan or have just started the process.
In the March issue of Business Credit, I encouraged you to attend the 109th Credit Congress to be held this year, June 12-15, in New Orleans. This venue is an excellent starting point for your professional growth and development strategy. Larry Winget gets things started at the General Session on Monday morning, June 13th. He promises to shake us up and share universal principles that will work for anyone, in any business, and he does it through humor. Tuesday morning the keynote speaker will be Randy Pennington, a recognized expert in leadership, change management and values-based performance. Randy has been a frequent guest on radio talk shows and has contributed to numerous professional newspapers and journals. Both of these speakers are a great way to start your day and can add motivation and direction for your professional development strategy. Next, check out the Credit Congress schedule for almost 100 educational opportunities available to help you achieve your goals. Then, revisit the January issue of Business Credit magazine to see the entire NACM-National education schedule for 2005, to help you to prepare your personalized development calendar.
You should also look to your Affiliate as a resource when determining your professional development strategy. Each Affiliate has a web page listing not only services that can assist you in your day-to-day job functions, but will also provide listings for future educational events that can assist you as you develop a workable timeline for your plan.
While it is true that you are the only one who can achieve your goals, it is not written that you have to travel a solitary path. Once your plan is developed, take advantage of the experiences of others—seek out other NACM members and find a mentor to assist you in reaching your goals. Many Affiliates have mentor programs in place. If your Affiliate does not, take the initiative and get involved. Many NACM Affiliates start their leadership year in late spring—and while it may be too late to volunteer to serve on this year's Affiliate Board, it is not too late to volunteer to serve on a committee. Select a committee that is of interest to you or one that fits your skill-set. Committee work is an excellent opportunity to network and to give back, i.e. mentoring. Or, if you have not already done so, join a trade group.
Not only does this provide useful information relevant to your job, but it also provides an opportunity to network with other credit professionals.
This year in New Orleans, the National Board will also change leadership. Again, while it is too late to serve on the incoming Board, it may not be too late to volunteer to serve on a National Committee. I encourage you to contact Sherry Wood, CCE, our incoming Chairman if you have an interest in serving on one of the National Committees.
Just as you need a plan of action and the right tools to tackle spring cleaning and your garden, you need a plan of action and the right tools to achieve success on your path for professional development. Once you have determined your strategy, connect with NACM for all the tools necessary for success. Add "self-renewal" to your "spring rituals", and put NACM at the top of your resource list!