CFDD National Honors & Awards

Nominations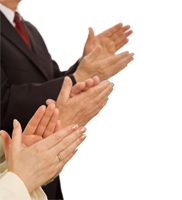 Click below to nominate a special CFDD credit professional, program or publicity from your chapter.
Current Deadline: March 15

Nomination Forms

| | |
| --- | --- |
| The Distinguished Member Achievement (DMA) Award was established in 1988 to recognizeoutstanding individual achievement in the NACM Credit and Financial Development Division. Each Chapter may nominate one candidate each year. | The National Mentor Award was established in 2003 to recognize participation in and promotion of the credit profession and CFDD through the mentoring process. Applications will be judged annually but an award will only be made when the judging committee feels an individual merits such an honor. |

In 2001, CFDD established an award to honor the memory of one of our most beloved members, Marilynn Daugherty. The Marilynn Daugherty Spirit Award is not given every year, but rather only when the awards committee feels an individual merits such an honor.

Marilynn Daugherty (1948-2001) was a dedicated mentor, businesswoman, confidant, advisor, peer and friend to countless members of the Credit and Financial Development Division and the National Association of Credit Management. She was the consummate professional.


She offered many individuals a helping hand to grow and reach their fullest potential, both professionally and personally. Her unquenchable Spirit touched the lives and careers of so many people at all levels of the business credit and financial communities.

Marilynn was a sound guide, but not critical judge, of those who worked for her and beside her. Her Spirit encompassed those around her like a pair of safe, yet strong and protective arms. Marilynn's years of service to CFDD as a Member, Director, Officer, and Chairman of the Board were marked by unbridled compassion, dedication, fairness, graciousness, and loyalty. These attributes were not limited solely to the CFDD, but shared generously with all those with whom she came in contact.

2018 Marilynn Daugherty
Spirit Award winner:


Wendy Mode, CCE, CICP
Dallas/Ft. Worth

2018 Mentor Achievement Award winner:


Ellen Wodiuk, CCE, ICCE
Phoenix

2018 Distinguished Member
Achievement Award winners, by class:

Class A:
Yvonne Prinslow, CCE
Portland

Class B:
Larry Glenn, CBA
Kansas City

Class C:
no recipient