Professional Certification Programs
View the schedule of our upcoming in-house courses, online courses or exams.
NACM's Six Levels of Certification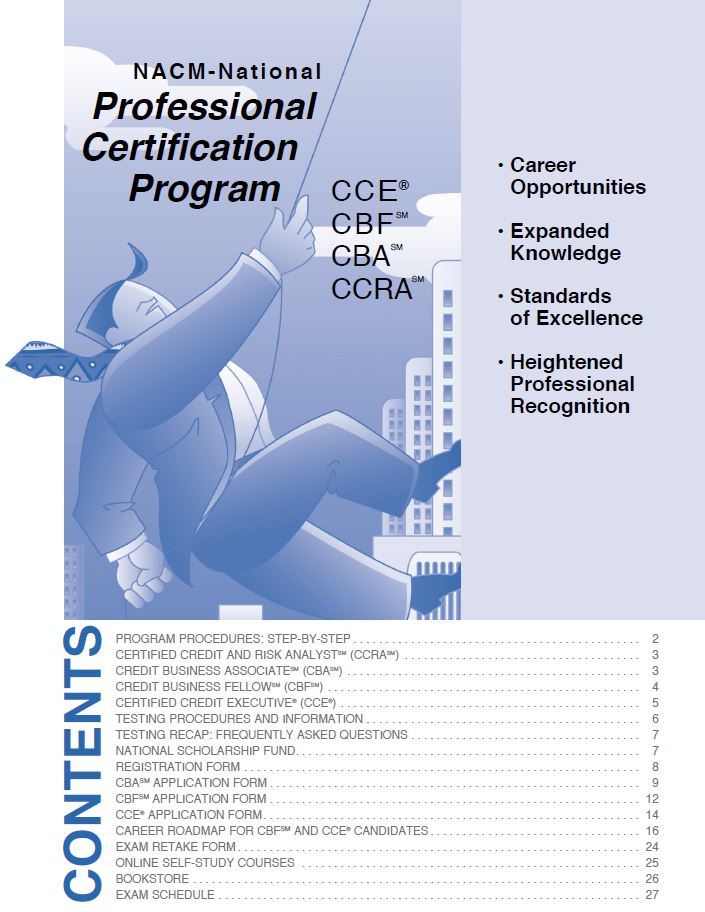 Credit Business Associate (CBA)
The CBA is an academic-based designation which signals mastery of three business credit related disciplines: basic financial accounting, business credit principles and introductory financial statement analysis. There is no minimum work experience requirement and the NACM Career Roadmap is not required for this designation.
Certified Credit and Risk Analyst (CCRA)
The CCRA is an academic-based designation which signals mastery in the analysis and interpretation of financial statements and the ability to make informed credit risk assessments. There is no minimum work experience requirement and the NACM Career Roadmap is not required for this designation.
Credit Business Fellow (CBF)
The CBF is an academic and participation-based designation which illustrates that achievers are knowledgeable about and have contributed to the field of business credit by first having earned the CBA designation, as well as having completed additional course work. The CBF signals competence in business law and credit law. CBF designation applicants must also accumulate Career Roadmap points.
Certified Credit Executive (CCE)
The CCE is NACM's highest designation that endorses its achievers as capable of managing the credit function at an executive level. Candidates must meet minimum professional and educational standards as well as accumulate Career Roadmap points. Candidates must be proficient in the areas of accounting, finance, domestic and international credit concepts, management and law. CCEs are required to recertify every three years, further signifying their commitment to continuing education, self-improvement and the advancement of the business credit profession.
Certified International Credit Professional (CICP)
FCIB's Certified International Credit Professional (CICP) designation is an academic-based designation earned by successfully completing FCIB's International Credit & Risk Management (ICRM) online course. The instructor-led, in-depth 13-week course is delivered in 12 modules and is designed to educate entry-level professionals as well as senior-level executives about the intricacies of global credit and risk management. This instructor-led international course has attracted participants from more than 25 different countries, with diverse backgrounds and professional experiences. Participants spend an average of 5-7 hours per week on the course. Participation in discussion board postings, "group share" assignments are a required aspect within each unique module.
International Certified Credit Executive (ICCE)
The International Certified Credit Executive (ICCE) designation has been created for international credit and risk analysis professionals who are ready to make an impact on the world stage by excelling beyond their CICP designation. The CICP designation is a prerequisite for those candidates who place a high value on continuing education as a means to securing the information and knowledge necessary to maintain their executive status. ICCEs not only continue to engage in ongoing education, but also participate in their associations by serving on committees, work groups or completing surveys, mentoring through engagement on the FCIB Discussion Board or LinkedIn page or taking a leadership role by serving as a panelist or speaker.
View Course Options to Work Towards Your Designation
Why Should You Earn Your Certification?

When you apply to participate in the Professional Certification Program, you are on your way to demonstrating that you are among the best. You'll join a select group of individuals who have made the commitment to excellence in credit management, career advancement and an ongoing pursuit of knowledge. Throughout the process, you will be recognized for your achievements.
The certification program, sponsored by the National Association of Credit Management, has helped define and establish professional standards in this demanding and rapidly changing field, and fosters recognition of those individuals who possess special expertise.
View Certification Application Forms
A Recognized Path to Success
Among credit management professionals, the professional certification program is respected and appreciated. Not only is participation in the program a mark of distinction throughout the profession, but it offers you a wide range of important benefits:
Expanded Knowledge:

By reading, studying and preparing for the exams, you'll gain a thorough, up-to-date understanding of every aspect of credit management, including a look at future trends and strategies essential to your success.

Career Opportunities:

Certification tells employers that you are motivated, accomplished and current in your knowledge of credit management skills. It indicates that you are actively working to maintain high standards in the field.

Heightened Professional Recognition:

NACM

'

s professional designations attest to experience, knowledge, ability, accomplishment, leadership and contributions to the credit and financial fields. Designations raise the level of respect among colleagues in business credit management and between professionals in the financial community. Proudly display your designation with your name on letterhead, business cards and all forms of address.

Standards of Excellence:

With constant changes in credit and with banking and financial services redefining the role of the credit executive, the certification program is clearly a valuable way to master professional education requirements and achieve professional excellence.
More Information
Access Online Course Options
View NACM's Online Course Options
Credit Learning Center
Visit NACM's Credit Learning Center
Digital Version
View NACM's Professional Certification Program digital brochure online.
PDF Version
Click here to download NACM's Professional Certification Program brochure.
Career Roadmap
View the Career Roadmap