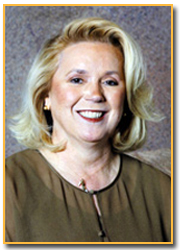 Commentary
Dawn Wallace Cook, CCE
In the September issue of Business Credit, I talked with you about change and how it affects you, the credit professional, and how you perform your job. To establish the enormity of change in our everyday life, I shared some statistics with you on the growth rate of the world's information base. This constantly growing/changing information base makes it imperative that we strive to keep pace.
Information is key, and your first stop as a credit professional on your quest to stay current with technology and all the resources you need to do your job at the best possible level should be NACM.
There is a variety of ways to gather information… through formal education (college or university), on-the-job training, or through self-motivation. A formal education through established institutions, such as colleges or universities, provides you a base skill-set. On-the-job training provides you with the specific skill-set you need to successfully perform an assigned function, task, project, etc. On your path of self-education, NACM can provide the necessary resources to assist you in your quest to stay current with change.
Let's start with Business Credit magazine… it's published 10 times each year, and features articles that will keep you, the credit professional, up-to-date on the latest trends and techniques in business credit, as well as information on educational events, outsourcing and software. You'll find coverage of state lien laws, an international "credit hot spots" column, and in-depth analysis of legal issues that affect the credit profession. It's a great start on your information-quest path.
Next stop… NACM E-News. The September 7th issue covers 19 different business news items, both national and international, as well as informing you of business credit related educational offerings. This month, NACM has scheduled 11 educational offerings ranging from a 60-minute audio teleconference on Understanding the Components that Drive Operating Performance, to an Accounts Receivable Forum, six regional conferences, and three international conferences, as well.
Have you heard about NACM's new audio-teleconference series? It's affordable, convenient and simple to participate. NACM provides outstanding speakers, practical information and complete reference materials. As a participant, you earn participation points on your NACM Career Roadmap—and as an added bonus, your entire credit department can participate for one low fee. Recent offerings included the following topics: UCC Article 9—The Revisions at Work and Their Impact; Reclamation & Stoppage of Delivery; Protect Your Companys Bottom Line and Export Letters of Credit.
The NACM Bookstore is a vast credit resource, whether you are looking for reference materials or looking for self-study courses. The titles are too vast to mention them all. However, whether you need the latest edition of the Principles of Business Credit or the Manual of Credit and Commercial Laws or need to know how to interpret a financial statement, go to the NACM web site, click on Bookstore, and browse through the vast list of offerings. The NACM Bookstore has it all!
In my article last month, I referred to the NACM Resource Library, a marvelous tool. For a nominal yearly fee, you are able to log on, type in a word or phrase, click on search, and have at your fingertips a voluminous amount of information. The Resource Library is always a work-in-progress, as the NACM staff continuously updates and adds information to the library's database to ensure that you have the most current information on credit-related issues.
Now that I have shown how NACM provides you with resources and tools to assist you in the performance of your job, let me suggest how you can expand your personal experience so as to enhance job performance.
In this issue of Business Credit is a "Call to Volunteer" on page 58. There are so many benefits derived from volunteering to serve on the NACM National Board or on a NACM National Committee. First and foremost is the opportunity to meet and interact with other credit professionals, to share credit experiences, issues and concerns; and to exchange ideas, techniques, and solutions. As a Board member or committee member, you have the opportunity to participate in a process to promote the credit profession, to assist in lobbying efforts to drive legislation that will benefit the credit professional, and to work to sustain NACM as the premier global credit association.
As a Board member, you can participate in the strategic planning process of your National Association; you can be part of the team that establishes the policies and direction needed to position NACM to meet the needs of members in this constantly changing business environment. Who is better prepared to know what tools the credit professional needs?
If you elect to volunteer to serve on a National committee—whether one of the educational committees, one of the government affairs committees or one of the governance committees, you will be part of the process to promote the credit profession as a valued part of the overall corporate structure.
If you are unable to participate at this time as either a Board member or committee member, you can still participate. Communicate with your Board and the National staff. Share your concerns, ideas and vision for the future. Make your voice heard! And next spring, vote for the candidate of your choice.
Volunteerism is the truest form of education through participation.