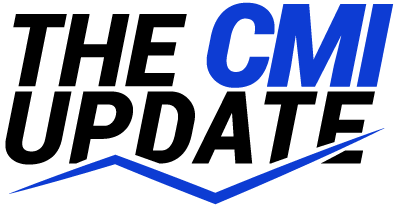 Beginner's Guide to Bankruptcy
GSCFM 2016
By: Adam Easton | Alejandro Ojeda | Eve Sahnow | Jessica Pierre | Kevin Quinn | Tawnya Marsh
---
---
Oh no!! I Just Heard that my Customer Filed Bankruptcy!!
What do I do Know?
---
Receiving your first bankruptcy notification can be an anxiety laden experience. Bankruptcy documents can be difficult to understand for those who do not deal with them on a daily basis. This simple guide is your companion to help you spot key issues when a customer files bankruptcy. It is written in an easy to understand style, without "legalese". It is NOT intended to be an all-encompassing solution for dealing with troubled customers. This is meant to assist the entry level credit professional navigate and define the surface of the bankruptcy process. This will help you spot issues to raise with senior management.
Find out if the information is true and accurate or simply a rumor.
WARNING! Verification is extremely important as there are strict legal consequences for attempting to collect a debt if a bankruptcy has been filed.
WARNING! Verification is extremely important as there are strict legal consequences for attempting to collect a debt if a bankruptcy has been filed.
---
How do I confirm it?
PACER – PUBLIC ACCESS TO COURT ELECTRONIC RECORDS
(This is the fastest and most reliable way to verify, so why go anywhere else?) Electronic access service that allows you to get case information directly from bankruptcy courts.
https://www.pacer.gov/ (Requires login and password)
Google search – Why not? Google knows all!
True? – Move to "Get your Ducks in a Row"
False? – See if you can determine where the basis of the rumor came from. (Talk to other vendors / trade groups)
Hmmm...Pay close attention to the filing date! This will dictate other rights such as potential preference issues (having to send money back) and reclamation (trying to get your stuff back).
---
Do we have orders pending or in transit?
Yes? – If you were paid up front, good for you! If not, you should consider cancelling or rerouting those shipments back to your warehouse. If already delivered, you may have a chance to reclaim your material. Reclamation will be discussed later.
No? – mark the account for non-shipment.
If you have a contract in place, you need to explore what your options are before you cancel. More about contracts in a bit, but you may want to seek legal counsel. Just sayin...
What does the account look like? People are going to ask a lot of questions so you need to be ready. Gather the proper documentation, to include two years of account records on:
Delivery tickets (bills of lading, proof of delivery), credit application, guaranty and current statement. (This is the start of it but you will need all the info below retained for later consideration).
Payment information - Check remittance copies, ACH/Wire receipts etc.
Invoices (paid and unpaid) and a statement of account.
P.O.'s which could be emails, voicemail, fax etc.
How much do they owe you?

---
The Big Dogs! – This will include notification to salespeople, managers, CFO and others in your credit department (including other branches).
Your Peers! – Luckily NACM can help with this process. Visit NACM's portal, they will verify (good thing somebody's got your back) then send out notification to others in your industry group.
---
"STAY WHAT?"
YOU WILL NOT BE AUTOMATICALLY NOTIFIED!
What is it? The automatic stay or "stay" bars you from ALL collection efforts. The automatic stay is put in place immediately after filing and there is no notification sent to anyone. The "automatic stay" protects the debtor and its property, stopping actions by creditors to collect on pre-petition debts (any amounts owed prior to the filing) or litigation. Think of it as a shield that is put into place between you and the debtor as soon as the bankruptcy petition is filed. The automatic stay applies to all chapters of bankruptcy
What does it mean to me? Collection Efforts HALT!!! The following can be considered collection efforts: demand letters, statements, phone calls, or invoices sent by emails or fax. As soon as you know about the bankruptcy, stop all efforts to collect any pre-petition amounts owed by the debtor or you will be in violation of the automatic stay (technically notice of the bankruptcy is not required for these efforts to constitute a stay violation).
Can the "STAY" be removed? - In some situations a creditor can ask the court to lift the "stay". Common reasons to do this would be: debtor is behind on home mortgage payments, automobile payments, failed to maintain insurance on home or vehicle or has a non-dischargeable debt such as alimony, child support, or other debt the debtor has agreed to reaffirm (you can't get rid of this one bucko!). If the stay is lifted, the creditor can proceed with certain actions that would otherwise be prohibited by the automatic stay.
Am I someone that can request a "lift" – Under certain circumstances, a creditor can ask the court to lift the stay. For example, if you have a lien on the debtor's property and the debtor owes you more than the value of the property, you can ask the court to lift the stay. Otherwise, get in line. (meaning no).
How do I "Lift"? A motion is required to be filed with the court. Your next step is to pick up the phone and call your favorite attorney to file a motion (with the presiding court) explaining (in detail) why you are requesting the lift.

Exceptions to the Automatic Stay - If a debtor is filing the second bankruptcy within a year, the automatic stay applies only for 30 days unless extended by the court. If a debtor is filing a third time within a year, the automatic stay goes into effect only by the request of the debtor (if the third filing was in good faith).
Hmmm.. Courts take the automatic stay very seriously. There are consequences for failure to abide by these rules. So keeping your nose clean will keep you out of trouble. Violation of the automatic stay can lead to contempt of court.
Expiration of the stay
With respect to acts against property of the estate – the stay expires when property no longer belongs to the estate.
With respect to the debtor – the stay expires the earlier of when the case is closed or when the case is dismissed.
There are many exceptions and caveats to the automatic stay. If you have further questions regarding this you should seek legal counsel.
---
Exceptions to the Automatic Stay
What is it? Think of reclamation as a way to "reclaim" the goods that you sold on credit. Once the goods have been delivered or paid for, title has transferred. But, the Uniform Commercial Code (UCC) defines a process to get your goods back in the event of insolvency. The caveat is that successful reclamation requires cooperation with the debtor, who is already in bankruptcy and most likely unwilling to help.
What does it mean to me? Both the UCC and the Bankruptcy Code provide very clear direction on the reclamation process. What you can and cannot do is spelled out for you. Under the UCC, it is the seller's right to demand that an insolvent (defined as easily as liabilities > assets) buyer return goods purchased on credit. A seller can reclaim goods delivered to a buyer if the seller satisfies the following conditions:
The goods were shipped on credit
The buyer was insolvent at the time it received the goods
The seller demands return of the goods within 10 days of the buyer's receipt of the goods
The buyer is in possession of the goods when the seller made the reclamation demand.
Reclamation in bankruptcy: It is important to understand that reclamation rights continue under Section 546(c) of the Bankruptcy Code. Section 546(c) requires a written reclamation demand and expands the reclamation reach-back period to 45 days from the above mentioned 10 days. Note that reclamation rights are subject to any lien on the property sought to be reclaimed.
What do I do? Determine if you have sold them anything on credit in the last 45 days!!
If your answer is NO - get to the back of the line.
If your answer is Yes - Get out your favorite pen again, your "Reclamation Letter" should follow the guidelines below:

State that it is a demand for reclamation
Identify the goods subject to the reclamation and include copies of invoices and purchase orders.
Demand an inventory of the goods on hand and make sure they segregate them until return transportation is arranged.
Send letter through email, fax and certified carrier to include a signed return receipt.
For a sample demand letter see the Manual of Credit and Commercial Laws from NACM.
What has to be on the other side for this to work?
The buyer has to have your goods
Goods have to be identifiable as yours
Goods cannot be altered or processed (Must look as shipped)
Goods are not subject to a lien
WARNING! Once a customer files bankruptcy, a reclamation demand must be sent within 20 days or reclamation rights are lost! Best practice is to send the demand as soon as possible because reclamation rights are only valid if the debtor still has the goods.
Demand Deadlines:The 45-day reach-back period is based on the physical receipt of good, for instance when the goods are delivered and signed for.
Hmmm...Computing 45 day reach-back: Begin counting backward starting the day before filing date. If your goods were received (title transferred) during this time, then they fall within your reclamation rights.
---
---
Early Case Considerations
"How do i put myself higher on the Totem Pole!"

First, answer this question:

ARE YOU A SUPPLIER OF GOODS OR SERVICES?
If the answer is "goods," keep reading here.
If the answer is "services," sorry! You will not have a priority administrative claim.

What is it – 503(b)(9) elevates all or a portion of the goods supplied to the debtor 20 days prior to the bankruptcy filing from a low priority general unsecured claim to a higher priority administrative claim. The goods must be sold in the ordinary course of business.
What does it mean for me – The 20-day portion of your claim has a much better chance of being paid in full. While secured creditors still retain priority over your 503(b)(9) claim, it's still much better than being a general unsecured creditor. Unlike a reclamation claim, a 503(b)(9) claim is still available even if a secured creditor has a lien on the goods you shipped and if the debtor has already sold the goods.

What do I do – you must file a motion for allowance and payments of your 503(b)(9) claim. Always consult counsel for assistance with these filings.
Hmmm.. Check the local rules and any orders in the bankruptcy case that permit or require the filing of 503(b)(9) claims by proof of claim form rather than by motion
---
"The court may not know about you"
What is it? A debtor must provide a list of all known creditors when filing a petition for bankruptcy. You may or may not be a known creditor. It is important to verify that you have been listed as a creditor, your company is listed accurately and the amount owed is correct. If you are not listed as a creditor and do not have notice of the bankruptcy filing, it may preserve your right to continue collection action. (Talk to your legal counsel)
What do I do? You should obtain a schedule of creditors in the bankruptcy case. You can find the court filings through Pacer, or your attorney can get them.
---
"Proving they owe you money"

What is it? A proof of claim (aka POC) is your way of notifying the court that you're owed pre-petition debt. The actual POC form is a written statement that notifies the bankruptcy court, the debtor, the trustee, and other interested parties that a creditor wishes to assert its right to receive a distribution (pay out) from the bankruptcy estate.
What does it mean to me? You need to decide if you're going to file a POC. There will be a notice sent telling you to "file a proof of claim" and list a deadline (Bar Date) to get your claim filed or not to file a proof of claim. In most Chapter 7 and Chapter 13 bankruptcy cases where there are assets to distribute, creditors must file a proof of claim in order to get paid.
What do I do? File a claim because failure to do so will result in no distributions (if there are any).
What to attach - All supporting documentation to support the basis and amount of the claim, including any applicable contracts, invoices, purchase orders, account statements, and security interest (if secured), etc. DO NOT send originals! Take copies of the documents and keep a copy for yourself as well.
WARNING! Be aware of the deadline because late-filed claims may not be allowed.
If your claim is an Unsecured Debt - To see a sample proof of claim go to: http://www.uscourts.gov/forms/bankruptcy-forms/proof-claim-0
A creditor may file a proof of claim on its own, but some may wish to consult with legal counsel.
** Do I qualify as a critical vendor? – Ask yourself, will the debtor survive without you (or at least your goods and services)? If yes, Skip ahead to critical vendor discussion.

If your claim is a Secured Debt - If your debt is secured or you think you deserve "Priority" status, the proof of claim may be more complex and you might wish to consult legal counsel.
Understanding how to prepare and file a proof of claim is critically important for any creditor
WHERE DO I SEND THE CLAIM? – Typically you will send this to the clerk of the bankruptcy court where the filing is held, or in some cases, to a claims agent that may be appointed (which can be determined by looking at the case docket).
HOW DO I SEND CLAIM? – It is recommended that you submit your claim via reputable carrier (UPS/FEDEX) with tracking to ensure timely delivery.
WARNING! A claim is only considered timely if it is actually received by the claims bar date.
Don't file a claim- If you receive notice not to file a proof of claim, it has been determined that no assets have been discovered yet to make a distribution to creditors. If assets are discovered, you will receive a notice setting a deadline to file a proof of claim.
New Rule-Supporting documents must be attached. Exception: If supporting documents have been lost or destroyed (but must attach explanation of circumstances)
---
"Is is worth it for us to fight this?"
What does this mean to me? You need to weigh the amount of your claim with the anticipated legal fees if represented by counsel. Administrative and legal expenses can be costly, especially in complex chapter 11 cases.
What does it mean to me? You need to identify which chapter of bankruptcy you're dealing with. The chapter will help determine the likelihood of any recovery (7, 11 or 13):

Liquidation (chapter 7) - Filed by individuals or companies. Creditors must file a proof of claim in order to be eligible for a distribution.
Reorganization (chapter 11) - Most common type of business filing. Intended as a reorganization. Can result in a plan or a sale of assets, among other results. The company remains in control of its assets and has all rights of a trustee. If the creditor is listed on debtor's schedules in a chapter 11 bankruptcy and creditor agrees with amount listed by debtor as being owed, creditor does not need to file a proof of claim (unless the creditor's claim (i) is listed on the schedules as disputed, unliquidated or contingent or (ii) is not listed on the schedules, in which case the creditor must file a proof of claim in order to be eligible for a distribution).
Repayment (chapter 13) - Filed by individuals who retain assets and pay creditors over time under a structured plan
Hmmm.. Main difference between 7 & 13 - 7 = property of the estate is whatever debtor had at the time of the bankruptcy filing. 13 = property of the estate includes any property obtained by the debtor after bankruptcy filing until the time plan is confirmed.
What do I do? You need to determine if the debt is Secured or Unsecured. In other words, how is the debt classified by the court? Once you've classified your debt, make a final decision on how to proceed with filing your claim with the court.
Secured - Has the benefit of a security interest over some or all of the assets of the debtor. Was the security interest perfected over 90 days prior to Bankruptcy? You get paid first (even before the lawyers). File a claim.
Unsecured - Does not have the benefit of any security interest. Typically, but not always, is paid less than full value and pro rata with other unsecured creditors. See prior section on 503(b)(9) claims how your unsecured claim can be elevated to a priority administrative unsecured claim. Elevating all or a portion of a supplier's claim from a low priority general unsecured claim to a higher priority administrative expense claim.
---
Can the debtor's business survive without you?
What is it? - Critical vendors are those that are essential to the bankrupt business's survival in chapter 11. In other words, you're supplying a product or service so important to the debtor's business operation that without it, the debtor would fail to reorganize.
What does it mean to me? - If you supply a product or service that is so critical to the debtor's operations that finding a replacement vendor would be overly burdensome on the debtor, the bankruptcy court may grant you critical vendor status. If you supply a product that is easily obtained from any other vendor, it is unlikely that the court will grant your critical vendor status. The benefit to becoming a critical vendor is that you can obtain payment in full of your prepetition claim. It also is a likely indicator that your relationship will survive a sale of the debtor's assets and that your contract (if you have one) potentially will be assumed by the buyer. Often, however, as a quid pro quo for payment of your prepetition claim, you will be asked to extend the same credit terms as they had prior to the bankruptcy. This frequently is done through execution of a critical vendor contract which often provides that your critical vendor payment will be subject to clawback if you "misbehave" (i.e., revoke credit terms without justification). In addition, critical vendors rarely are given a preference waiver, so any payments you received in the 90 days prior to the debtor's bankruptcy filing may still be subject to recovery by the debtor (subject to any preference defenses you may have – see discussion below on preference defenses).
How to get selected as a Critical Vendor:
To be considered a critical vendor, the debtor must file a motion with the bankruptcy court and prove to the judge that a creditor's products are necessary to the survival of the business and difficult or impossible to get from other vendors. If the debtor is able to carry this burden then it will be authorized to pay its critical vendors in full.
In order to grant a supplier critical vendor status, courts look at several factors:
Debtor needs particular products for the company to survive
Vendor likely would stop selling the debtor absent payment of its prepetition claim.
Whether payment to critical vendors (and therefore continued supply from those vendors) would increase the likelihood of a successful reorganization.
WARNING! Tread lightly when discussing critical vendor status because if you approach the debtor it can be deemed a violation of the automatic stay.
---
Are you as big of a deal as you think you are?
What is it? Are you one of the largest unsecured creditors? If so, you might consider becoming a member of the creditors committee. The unsecured creditors' committee is appointed by the U.S. trustee, in a chapter 11 case, and is made up of the largest unsecured creditors (usually 7 but sometimes fewer) of the debtors who are willing to serve. Committee members have a more active role than other creditors and have greater access to information and to the debtor's representatives. The committee represents the interests of all unsecured creditors in a fiduciary capacity.
What do I do? A creditors committee must first be formed. The US trustee owns the process of forming the committee.
The U.S. Trustee may appoint a committee as soon as possible after the bankruptcy case is filed if there is significant interest among unsecured creditors.
The process begins with the US trustee sending a questionnaire to the largest unsecured creditors. Creditors interested in becoming a member of the committee complete and return the questionnaire to the U.S. trustee. From that point the U.S. trustee convenes an in person meeting of those creditors that are interested in serving. The trustee will select members of the committee from among those who submitted questionnaires and are present at the meeting (although sometimes this is done based on the questionnaires alone without an in person meeting).
What does it mean to me? The committee has official duties and responsibilities. There is a time commitment involved with being a committee member.
Review the progress and status of the case and discuss the same with the debtor. Also, the debtor is required to file periodic financial reports with the Court and the Office of the United States Trustee. These reports should provide valuable information for the committee.
Investigate the financial condition of the debtor, the operation of the debtor's business and the desirability of the continuance of the business.
Participate in the formulation of a plan.
Ask the Court to appoint an examiner in the case. An examiner is a professional (often a CPA) with the expertise to investigate the business and file a report drawing conclusions regarding the viability of the same, the competence of past or current management, possible fraud, etc.
Request the appointment of a trustee. A trustee is an independent third party charged with the responsibility of controlling estate assets.
Ask the Court to either dismiss the case or to convert it to one under Chapter 7 (liquidation). One cause for dismissal or conversion is unreasonable delay which is prejudicial to creditors.
The Bankruptcy Code provides further that the debtor must meet with the creditor's committee to transact such business as may be necessary and proper, and that the debtor shall furnish to the committee, upon request, information concerning the debtor's business and its administration. If in the performance of its duties, the committee would be aided by the services of an attorney,
Accountant or other professional, the Code provides a means for the appointment of such individuals as may be selected by the committee. The compensation of such individuals will be paid from assets of the debtor's estate, and will not be chargeable directly to individual committee members.
---
Think About It! - Considerations Throughout the Entire Case....
---
"You mean they are still in business?"
What is it? Some creditors may decide to sell to a debtor after they've filed chapter 11 bankruptcy. The debtor in bankruptcy, known as a Debtor in Possession (DIP), is now essentially creating new debt that is not part of the bankruptcy case.
Vendors need to manage their post-petition credit risk very closely. Due to the possibility that a debtor may have limited cash flow through the bankruptcy process, vendors may want to consider whether to continue doing business, and if so, under what terms. Steps in determining a debtor's post-petition liquidity include searching PACER to determine whether the debtor has authority to use its lenders cash collateral or has obtained DIP financing. This information might help you as the creditor feel more comfortable with the debtors' ability to pay you for post-petition shipments. In addition, if the debtor fails to pay you for any post-petition shipment you are entitled to a higher priority administrative claim for those shipments (although there is no guarantee administrative claims are paid in full). If you are not comfortable extending credit post-petition, you can impose COD or cash in advance terms or elect not to ship at all.
---
"What? I might have to pay money back to the bankruptcy estate?"
The answer to this is "yes" - Keep reading.

What is it? Preference and fraudulent transfer actions are some of the most common bankruptcy-related claims that creditors face. It may not seem fair, but it's a reality of bankruptcy. The US Trustee will review all payments made to creditors going back 90 days from the date of filing. Any transfer (payment) made by the debtor to the creditor will be analyzed by the trustee. The intent of preference & fraudulent transfers analysis is to prevent a debtor from "preferentially" paying one creditor over another or "fraudulently" transferring assets to another party. The concept is rooted in fairness.
What does it mean to me? No creditor wants to receive a preference action. Nonetheless, you have to deal with it. You may receive a "demand letter" from the US trustee. The demand letter lists the payments that the trustee or debtor-in-possession identifies as having been made to you within the 90-day period. The demand is for immediate payment, usually less some small discount. When a creditor receives a preference demand letter, the creditor should always have experienced bankruptcy counsel review the case to determine whether the creditor has valid defenses (explained more below).
What do I do? You have to defend the preference action. The trustee or debtor-in-possession has the initial burden of proving that the elements of a preference exist. For starters, a prepayment is not a preference (even if the prepayment was received within the 90 days before bankruptcy). The Bankruptcy Code provides defenses to preference actions. The three most common are all "affirmative defenses," meaning that the creditor has the ultimate burden of proof on these issues. The most common defenses used by creditors are explained below:
Creditors often are concerned about taking payments from their customers when the customer is known to be headed into bankruptcy. The reason is that the payment might be subject to clawback as a preference. Consider, however, that it often is better to have the money in-hand for several reasons:
You have use of the money,
The burden is then on the trustee to come after you to try to recover it as a preference, and
You might have defenses to a later preference claim.
As it is often said, "possession is 9/10ths of the battle!" So, take the payment.
Ordinary Course of Business Defense – This defense is highly subjective, but the most common methodology is to look at the debtor's payment history to evaluate its average time to pay your invoices for some period of time prior to the 90-day preference period. Did the timing stay consistent before and during the 90-day preference period? You may also use the average time for payment in the relevant industry to prove the ordinary course of business defense. What is the typical payment timing for other companies in the same industry? (Depending upon the court, the relevant industry might be the creditor's or the debtor's industry, if they are different.)
Contemporaneous exchange for new goods or services Defense - The creditor proves the "contemporaneous exchange" defense by showing that the creditor provided new goods or services contemporaneously with (i.e. at or near the same time) a payment that was of equal value to the goods or services provided and that the parties intended the transaction to be a "contemporaneous exchange." For example, if the creditor delivers goods worth $100 on June 1 and is paid $100 for those goods on June 2, so long as the parties intended the $100 payment to be for the $100 in new goods and intended that the payment would occur "substantially contemporaneously" with delivery of the goods, then the contemporaneous exchange defense applies.
New Value Defense – This defense gives you credit for goods that you ship during the 90-day period after you have received an otherwise preferential payment. The value of any "new" goods or services shipped during the 90-day period after an otherwise preferential payment can be offset dollar-for-dollar against any prior preferential payments made by the debtor. In order to use this defense, most courts require that the later shipment remain unpaid, although some courts will count the later shipment as new value even if you have been paid for that shipment. Mechanically, using a simple example, this defense works as follows: you receive a $10,000 payment on Day 80 prior to the bankruptcy filing and ship $7,500 of new goods (for which you were not paid) on Day 70 prior to the bankruptcy filing. Under this scenario, assuming that the $10,000 payment meets all of the elements of a preference and would otherwise be avoidable by the trustee, you are entitled to offset the $7,500 shipment such that your net exposure is $2,500. This defense is much more objective than the ordinary course of business defense.
Don't get comfortable! They have 2 years from the date of filing to file a preference lawsuit.
---
"Wait! We have a contract! What do I do now?"
AKA - Executory Contracts
This can be a complicated issue in any chapter 11 bankruptcy case, but don't let the fancy words intimidate you. This area of bankruptcy is understood by only a small number of people with a specialized knowledge or interest. If you're confused, that's okay. We'll walk through the basics, but it's always wise to consult bankruptcy counsel if you are aware of any existing contracts that require performance by either you or the debtor.

What is it? - An executory contract is a contract that has not yet been fully performed, that is to say, fully executed. Put another way, it's a contract under which both sides still have important performance remaining, even if your customer is in bankruptcy.
What does it mean to me? If you are a party to a pre-petition contract (aka executory contract), debtors and bankruptcy trustees are authorized to "assume or reject" these contracts in bankruptcy.
Are you serious? Yes, property interests of the debtor filing for bankruptcy become property of the estate. An executory contract is property of the bankruptcy estate.
Why? The Bankruptcy Code allows debtors to shed (i.e., reject) burdensome contracts (e.g., those where the debtor is paying more than current fair market value) and to retain (i.e., assume) beneficial contracts.
How? Only with bankruptcy court approval can the debtor "assume or reject" an executory contract. As a party to an executory contract, the debtor is required to send you notice of a motion seeking authority to assume or reject your contract and you are given an opportunity to object, if appropriate. Bankruptcy courts defer to the debtor's business judgment when deciding whether to permit assumption or rejection of an executory contract.
What does Assumption mean for me? A debtor may assume an executory contract by:
Obtaining an order from the bankruptcy court permitting assumption of such contract after notice and an opportunity for the non-debtor counterparty to be heard in the bankruptcy court
-or-
Confirming a plan of reorganization, which provides for assumption of the contract.
If your contract is assumed, you are entitled to a cure of all defaults (with limited exceptions). This means that if you are owed money under a contract for prepetition sales, if your contract is assumed, you will receive payment in full of your prepetition claim (as opposed to payment of some cents on the dollar).
What does Rejection mean for me? Rejection of an executory contract is essentially the debtor's declaration that it will not perform its remaining obligations. Upon rejection, the debtor no longer can be compelled to perform.
What do I do?
If you receive a notice that the debtor is seeking to assume your contract, it should include what the debtor believes is the amount needed to cure any defaults. You should review this carefully to be sure that you agree with the amount. If you do not, you will want to retain bankruptcy counsel who can file an objection for you to assert the correct cure amount.
If you receive a notice that the debtor is seeking to reject your contract, first consider whether it is a leverage play by the debtor to try to get you to renegotiate the terms of your contract in exchange for continued business. If the contract is one you would prefer not to lose, you might wish to contact the debtor to see whether negotiations are possible. But know that it is ultimately the debtor's right to reject your contract. If your contract is rejected, you are entitled to file a "rejection claim." The order authorizing the rejection or a subsequent notice should tell you the deadline to file your rejection claim. A rejection claim is a claim based upon the debtor's breach of your contract, which is what is deemed to have happened upon rejection. It is as though you are filing a lawsuit in state court against the debtor seeking damages for the debtor's breach, but instead you are asserting those damages in the form of a rejection claim in the debtor's bankruptcy case. The rejection claim is treated as a general unsecured claim.
WARNING! Beware the $0 cure. Often, in the context of a sale of the debtor's assets, a notice will be sent to many contract counterparties at once stating that the contracts identified on an attached exhibit will be assumed and assigned to the buyer as part of the sale. In many cases, the exhibit is lengthy and the notice requires that any objections must be filed within a very short period of time. Be on the lookout for a $0 cure amount! If your contract is listed and the cure is erroneously listed as $0 but you do not object timely, you will not be entitled to any cure and will lose one of the greatest benefits of having your contract assumed.
---
Be cautious and monitor all filings and due dates. Deadlines are simply that... DEADLINES! Late or misfiled paperwork can cost you the ENTIRE amount of your claim.
Most proceedings take months and sometimes years to unwind. Use this time to read up on bankruptcy proceedings so next time, you will be ready.
Hmmm.. There are so many things here that should be considered. Too many to get into in this "highlights only" document. 90-day lookback, prepayment, practical considerations, key defenses, ordinary course of business, new value, contemporaneous exchange etc. etc.
NACM has many resources available; start with the latest edition of "Manual of Credit and Commercial Laws" by National Association of Credit Management(NACM). The information is fantastic and sample forms are even provided. A no brainer for sure. As sure as you are that you have all your ducks in a row, you are not an expert. The trickier the case and higher dollar amount at stake, the greater the likelihood you should obtain legal counsel.
---
http://www.hmblaw.com/presentations/bankruptcy-back-to-basics,-cfdd-credit-retreat,-troutdale,-ore-(february-2014).aspx
http://www.coveringcredit.com/business_credit_articles/Bankruptcy/art938.shtml
http://www.lexisnexis.com/legalnewsroom/bankruptcy/b/bankruptcy-law-blog/archive/2010/12/09/critical-vendor-status-in-a-business-reorganization.aspx
http://www.klgates.com/files/Publication/6eb5ac92-1b27-474f-8bf6-9a4ef5ea1ead/Presentation/PublicationAttachment/bd899918-1c17-4c99-af5a-9ce01e73728b/ba0906.pdf
https://www.justice.gov/sites/default/files/ust/legacy/2011/07/13/credcom.pdf
---
Mark Dunham – Lieutenant Colonel Retired - US Navy & Air National Guard
Jason M. Torf, Horwood Marcus & Berk Chartered | (312) 606-3236 | This email address is being protected from spambots. You need JavaScript enabled to view it. | http://www.hmblaw.com/professionals-directory/jason-m-torf.aspx
The Meridian Group | 223 Fourth Ave, Suite 1700 Pittsburgh, Pennsylvania 15222-1713 | (412) 232-0113
Ryan L. Haaland, Attorney at Law | 1400 Fawcett Parkway, Nevada, IA 50202 | This email address is being protected from spambots. You need JavaScript enabled to view it.
Holly C. Hamm, Snow Spence Green LLP | 2929 Allen Parkway, Ste. 2800, Houston, TX 77019 | (713) 335-4808 / This email address is being protected from spambots. You need JavaScript enabled to view it.
The United States Department of Justice | "Information For Prospective Creditor Committee Members On Chapter 11 Cases"
Manual of Credit and Commercial Laws - 2014 Edition
Principles of Business Credit 7th Edition
3 A.M. Flashbacks
UCC Article 9 for Dummies
Graduate School of Credit and Financial Management
By: Christen Borman, Douglas Jacobson, Jovan Rosa, Rocky Thomas, Susan Thomas, and Melvin Ucelo
---
Introduction
"Risk comes from not knowing what you're doing"
-Warren Buffet
As a credit manager in the world of business to business (B2B) commerce, it is your job to facilitate sales while managing the risk associated with the extension of credit and protecting your company's investment in accounts receivable. Trade credit is essential to the accommodation of sales growth and, as we know, there is always some risk associated with the extension of credit. Unfortunately, as B2B creditors, we often don't have the luxury of requiring collateral to extend credit. The prudent and risk free approach would be to require payment at the time of the transaction. However, the last we checked, our companies have sales growth, increased market share and profitability as their core goals. In a competitive environment, it is essential that we find ways to efficiently leverage the extension of credit to accommodate these goals.
The good news is that there are laws and regulations that provide protection for B2B creditors and give us legal remedies to help mitigate the risk that comes with the extension of trade credit. It is called the Uniform Commercial Code (UCC). The bad news is that most of us are not legal experts and it can be a daunting task to research and understand the UCC. We are hopeful that "UCC Article 9 for Dummies" will provide a quick guide to help the commercial creditor take advantage of the tools available to successfully secure their accounts receivable.
Legal codes and laws are not an easy subject to understand. The Uniform Commercial Code contains the legal framework that governs commercial business transactions. The articles of the UCC are a set of laws governing the sale of goods, leases, negotiable instruments, bank deposits, funds transfers, letter of credit, bulk transfers, bulk sales, warehouse receipts, bills of lading, investment securities and secured transactions. Within the code one of the most important articles is Article 9, Secured Transactions, which provides the governing rules for any transaction that combines a debt with a creditor's interest in a debtor's personal property. In 1998 revisions to Article 9 were completed and were approved by all fifty states by 2001. Article 9 provides a detailed instruction manual on steps to take to legally protect a debt by staking a claim in the debtor's property.
The understanding and use of the basic elements of a secured transaction in Article 9 can be a daunting task. It requires a thorough understanding of the code and any new amendments. A creditor must be able to follow the process, comprehend the scheme and implement a solution that best fits the purpose of mitigating the risk. In most scenarios, the creditor can gain superior bargaining power by requiring the debtor to provide a security interest to the creditor as part of the transaction. This is done before granting a loan or providing something of value in order to maximize the likelihood of payment in the event that the debtor does not comply with the terms of the agreement. The creditor can exercise its rights created under Article 9. For this to be successful it is important to create an enforceable security interest "Attachment", protect the security interest from claims of other parties to the collateral "Perfection", and have the highest "Priority".
As part of the process, it is always important that the choice of law and the parties' jurisdiction is well defined in order to enforce rights with no delay. This usually is where the debtor is. Complications arise from the need to understand the common legal definitions used throughout article's many sections, the fact that its rules have exceptions that a credit manager needs to understand, and that timing of actions and the specificity of documentation, if not followed, will endanger the legal protection the creditor seeks.
UCC Article 9 for Dummies is here to decode and help explain from a credit manager's perspective, the more relevant aspects of the article and demystify the relevant aspects so we know what to do when it is required to secure a transaction. It's meant to give a high level view of the code and to highlight the riskier areas. A credit manager should always seek advice from legal counsel regarding specific questions of law, especially if the monetary exposure is large.
---
Article 9-Secured Transactions
Overview
The credit manager must ensure that all requirements of Article 9 are properly met and documented to obtain a legal claim in a debtor's collateral if the debtor does not pay or satisfy its obligations. The credit manager must then take the steps necessary to insure that the legal claim established has priority over other creditors.
The illustration below attempts to capture the main areas of the code that a credit manager must be familiar with to protect his or her company's financial exposure to a non-paying customer. Definitions of underlined terms are summarized in the glossary.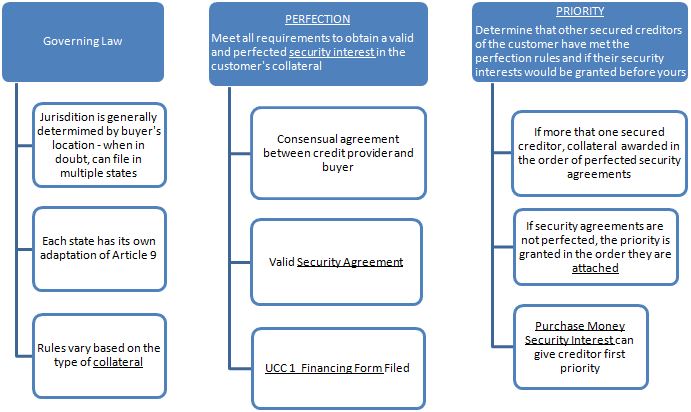 The main point of Article 9 is to be a secured creditor:
If a creditor is secured it has a claim in something of the buyer's (the goods exchanged for future payment or other collateral). This gives the creditor:
Right of repossession of goods extended in exchange for future payment if the payment is never made
Elevated priority in the potential proceeds? Even if the buyer is filing bankruptcy
It upholds defense to preference in the potential instance of a bankruptcy filing.
However, a creditor cannot be secured or have the claim in the asset until its interest is perfected.
What is a security interest?
A security interest is an interest in the asset of a buyer. This is important for creditors to leverage their position of being able to fully collect money extended to buyers.

A blanket interest securitization can be made and is often the case with banks that have an interest in all applicable assets of a buyer (except for some real property, aircraft, ships and motor vehicles). A Purchase Money Security Interest ("PMSI") is applicable when the buyer takes possession of the goods from the creditor and it allows the creditor to seek a super-priority security interest, putting them above all other secured creditors in security ranking. PMSI filings are the only ones that require notification to other secured creditors of the filing since it gives that creditor super-priority interest.
What is collateral and why is it needed in a security interest?
The asset (collateral) in a security interest must be personal property but cannot be real property, aircraft, ships or motor vehicles.
Typical collateral involved in a security interest:
Inventory
Fixtures
Equipment
Vehicles
Accounts receivable
Stocks, bonds and negotiable instruments
Essentially, the collateral acts as the proceeds to which the security interest attaches. The common types of collateral in a security interest are blanket, consignment, or specifically listing the assets or a Purchase Money Security Interest.
It is imperative that a secured party handles collateral with care. The following case is an example of a creditor's breach of this duty.
Collateral—Must handle with care!
United States v. Baus
The secured party neglected to take proper care of collateral consisting of debtor's plant, machinery, equipment and inventory located in Puerto Rico by leaving it in an unsecured warehouse for two years. Theft and vandalism caused the sale of the remaining inventory to be delayed and led to an 88 percent decline in the value. The $100,000 of the debtor's inventory netted just $12,131 after the expenses of the sale were taken out. The First Circuit found it "likely" that the government guarantor had breached its duties under Section 9-207
Who is responsible for taking care of the collateral?
Practical expenses incurred in ensuring the proper care of collateral are chargeable to the debtor and secured on the collateral. An example would be the cost of insurance. If the goods are accidentally lost or damaged any shortfall in the insurance rests on the debtor. Payment of taxes and other charges directly related to the preservation, custody, or operation of collateral also fall under this category.
Collateral in Action—Use it don't lose it!
Collateral Description Errors causing failure to perfect
1st Source Bank vs. Wilson Bank & Trust (Tennessee)
The US Court of Appeals for the Sixth Circuit ruled that a creditor bank did not have a perfected security interest in the debtor's accounts receivable because "the bank failed to include 'accounts' or 'accounts receivable' as part of the bank's collateral in its UCC financing statement" even though those words were used in the security agreement.
Ref: source: Business Credit Magazine, May 2014 – "Mistakes in a UCC Financing Statement's Collateral Description
Can Be Hazardous to a Perfected Security Interest!"
So now I have an interest in the collateral of my buyer - what do I do next?
File a security agreement!
The security agreement indicates the creditor's right to file a security interest in the specifically named assets of the buyer, which acts as the collateral to uphold the agreement. In order for a creditor to have a valid security interest the agreement must be signed (authenticated) by both the creditor and the buyer, contain a description of the collateral, and make it clear that the security interest is intended.
---
Why are people telling me I need to be perfect in this process?
What is perfection in a security interest?
Perfection is when the creditor has filed their security agreement between them and the buyer. It is filed with the secretary of the state that the buyer is registered as a business entity in (or resides in if a sole proprietor). If the buyer is registered in multiple states, multiple security interests can be filed per state. If you don't file your security agreement, you don't have your security interest and you don't have any secured rights in your buyer's collateral. This would mean…You aren't perfect!
Importance of Perfection!
Debtor Name Errors causing failure to perfect
1st Source Bank vs. Wilson Bank & Trust (Tennessee)
The creditor, CCF Leasing Company, filed a UCC-1 statement but listed the debtor as "Wing Fine Food". Because a UCC search using the secretary of state's search logic would not have produced the financing statement, the court found the filing to be fatally flawed and Wing Foods, Inc. was able to avoid the creditor's security interest claim.
Ref: NCS Credit blog 11/12/2014
But I don't have time to go to the Secretary of State!
Due to the detailed requirements of filing (including notification, most creditors prefer to use a qualified service, such as

NACM's MLBS

.
Due to the detailed requirements of filing (including notification), most creditors prefer to use a qualified service. However, if you wanted to file a financing statement on your own, you must first make sure you have all the proper documents. You would then submit these documents to the central filing office in the state the debtor resides or its business is registered. This is commonly done electronically. Each state has its own rules for filing so further research must be done in order to ensure full compliance to that state's requirements.
Required documents to file a financing statement:
UCC1-UCC Financing Statement – this is a Unified Commercial Code form prepared by the company granting credit. When it is filed appropriately it gives public notice that a creditor has a security interest in collateral belonging to the customer documented in the statement. The financing statement must be filed with the office of the appropriate government agency, generally the office of the Secretary of State of the buyer's location.
Sample of UCC1 Template
How do I know my filing is complete?
Upon request at the filing office, you can obtain notification of acknowledgement when the filing is complete. A specific number is assigned to each UCC filing for identification and will be provided with the requested acknowledgement. This number is referred to as the file number. Furthermore, the date and time of the filing is critical given the hierarchy of security interests by date.
Remember!
First in line, first in right—except for PMSI filings!
Therefore, the date and time will be recorded with each filing as well.
The filing office where the documents were submitted is the place that maintains the records of the financing statement and any attached documents. At least annually all states must review their filing-office rules to ensure compliance and effectiveness.
A creditor can search for records of financing statements by the debtor name or file number if they know it.
A filing can be refused for several reasons, like when it is not received properly (must be original document), the filing fee isn't paid, an incomplete or invalid name for debtor or does not have attaching and complete financing statement. However, the filing office must communicate the refusal within two business days from receiving the record. Method of communication depends on the state requirements. Each state also has statutory requirements of holding public record documents that would dictate when they can destruct written records of financing statements.
What are the rules of priority and are there ways to obtain priority over existing creditors?
It is important for the creditor to know the rules of priority and determine the steps necessary to ensure that he is protected. Remember that the UCC -1 must be filed – your security agreement is worthless until the filing is complete. In most cases, if there is bank financing, they will usually have a perfected blanket UCC -1 that takes priority. This why it is important to do a thorough search of all prior filings to determine the effectiveness of your filing.
Rules of Priority:
Determined by the time of filing or perfection – the first filed has the first right
It includes both proceeds and the supporting obligations of the collateral
Perfected interests can be subordinated (see PMSI) with the permission of prior secured parties
Can I secure future shipments that will take priority over existing security interests?
As indicated earlier, many times a bank or other secured lender will have a blanket UCC-1 that gives it priority interest in all inventory and proceeds of the debtor. However, there is way to secure goods and proceeds before they are shipped. This is done through a Purchase Money Security Interest (PMSI). A PMSI grants a security interest to the trade creditor sold on credit terms for the price of the goods sold.
A key advantage gained by a PMSI is that it gives the creditor access to co-mingled funds not specifically identifiable by the creditor or the courts.
Rules and requirements:
Only covers goods and proceeds sold on credit terms moving forward – does not cover existing debt.
The debtor must agree and sign off
Must describe in detail the goods or inventory that is covered
Always do a UCC search to determine existing secured parties
The secured party (most often a bank) must be notified and grant a priority for the good s or proceeds of the creditor prior to the debt being incurred. This is called a subordination. It is usually not granted unless the secured party determines that it is in their best interest and provides the potential for additional income and profits.
Must be filed and recorded once completed and signed.
The PMSI is perfected once the debtor takes possession of the inventory
You must send official notification to the holder of the prior security interest prior to debtor taking possession
Sample Purchase Money Security Interest
SAMPLE PURCHASE MONEY SECURITY INTEREST
How do I enforce my security interest once it is in place?
A security interest attaches to collateral and becomes enforceable if:
value has been given
the debtor has rights in it and/or the authority to transfer rights to a secured party.
AND if any of a number of conditions are met, one being:
an authenticated security agreement giving a description of the collateral is completed
What happens if my customer (debtor) defaults?
Secured Creditors in Action!
Assuming that you have filed all of the necessary paperwork and perfected your security interest, there may come a time when a customer defaults on the agreement. At that point there are several options available to you to enforce your lien against the collateral.
Three things you can do:
Foreclose on the collateral
Claim a judgment against your customer
Enforce a claim against your customer in court
As a creditor you may deduct reasonable attorney fees and collection expenses incurred during the repossession of your collateral.
As a creditor you can sell, lease, license, or otherwise dispose of any or all of the collateral covered by the security agreement as long as it is reasonable to both parties. If you are going to dispose of the collateral, you must send notification to the customer and any secondary lien holder unless they waive their right to the disposition of the collateral. In most cases a 10-day notice is sufficient.
All proceeds that are received over and above any debt owed must be returned to the customer or to a subordinate security interest holder. The customer would still be liable for any deficiency amount that is owed after the collateral is seized.
Upon default you may require your customer to assemble the collateral and make it available to you at a place of your choosing and is convenient for both you and your customer.
Notice of disposition should include a description of the collateral to be sold, leased, or licensed, the method of disposition, charges associated with the sale or disposition, and time and place of the disposition.
Example:
We will sell (lease or license) the following collateral privately sometime after this date. You are entitled to an accounting of the unpaid indebtedness secured by the property that we intend to sell (lease or license) for the amount of $_______. You may request an accounting by call us at (telephone #).
For a consumer goods transaction:
Name and address of creditor and date
Example: Notice of our plan to sell property
Name and address of debtor
Identification of collateral
We have your collateral and because you broke promises in our agreement we will sell (description of collateral) at a private sale sometime after (date). The money that we get from the sale (after paying our costs) will reduce the amount that you owe. If we get less money than you owe, you will still be responsible for the difference. If we get more money than you owe, you will get the excess unless there is a secondary lien holder. You can get the property back at any time before we sell it by paying us the full amount you owe, including our expenses. For a balance owed please call us at (telephone #). We are also notifying other individuals who may have an interest in this collateral or who owe money under your agreement. (List names of other possible lien holders if any).
Acceptance of collateral in full or partial satisfaction of the obligation can be done only at the debtor's consent within 20 days of notification. This does not require you as a creditor to dispose of the collateral (Does not apply to consumer transactions)
In consumer transactions collateral must be disposed of within 90 days after taking possession or within a longer period to which the customer and secondary lien holders have agreed to.
The customer or a secondary lien holder has the right to redeem the collateral for full payment of the obligation at any time prior to disposition.
Default—Mistakes can be costly!
Sports Authority Bankruptcy and Implication on UCC Consignment deals:
Sports Authority initially filed Chapter 11 bankruptcy to reorganize its structure and become a much smaller retailer of sports merchandise and clothing. However, in the midst of the initial bankruptcy proceedings the creditors became aware that Sports Authority was listing inventory as an asset when the inventory was in fact part of consignment deals and therefore not assets of Sports Authority but still assets of suppliers (creditors). This critical issue forced Sports Authority into Chapter 7 bankruptcy because it had been overstating its assets and blurring the true financial disarray it was in.
During the bankruptcy the court ordered Sports Authority to start liquidating its assets which caused an argument over the proceeds of the sale of consignment items. Should the proceeds go lenders with secured interests in Sports Authority or go directly back to the suppliers with the consignment agreements that claimed they still owned the items up for sale in the liquidation?
Alas, the crux of the issue acknowledged that had the suppliers protected their consignment agreements by perfecting a security interest and notifying lenders to not use the consignment goods as collateral in their security interests of Sports Authority. This is a critical part of UCC Article 9 and important for all creditors to be aware of in their dealings of consignment issues.
Ref: www.bloomberg.com/
What Should You Remember?
The purpose of Article 9
For creditors to gain a security interest in personal property (assets) of a customer which may elevate their position in collections
Security agreement = security interest
Must have identification of parties, granting clause and collateral (asset) description
No UCC-1 = Not perfected = Not a secured creditor
To become a secured creditor à perfect security interest by filing a UCC-1 with the proper filing clerk
With a perfected interest a secured creditor has:

Right of repossession of the asset
Elevated priority in bankruptcy
Defense to preference in bankruptcy
Mistakes are costly
Always review your work for accuracy. Utilize a third party for additional verification to confirm all steps are complete.
Glossary
Attachment – when a security agreement is executed and the debtor acquires right in the assets subject to the security interest (collateral). The creditor's security interest becomes enforceable.
Collateral – property subject to a security interest. Laws vary regarding various types of collateral and the legal jurisdiction. Typical personal property involved in a security interest includes inventory, fixtures, equipment, vehicles, accounts receivable, and stocks/bonds/ negotiable instruments. It cannot be real property.
Control – Control of collateral does not mean the same thing as possession of collateral. See UCC Article 9 parts 1 and 2.
Lien – official claim an asset for payment of a debt or an amount owed by a buyer. It is usually a formal document signed by the credit provider and sometimes by the buyer who agrees to the amount due.
Perfection – a legal process by which a secured creditor can protect itself against claims of other third parties who wish to have their debts satisfied out of the same debtor collateral
Possession – with respect to collateral, possession is the control a person intentionally exercises toward that collateral. To possess collateral, a person must have an intention to possess it. A person may be in possession of an asset but that does not imply ownership.
Priority – where your perfected claim falls with respect to other creditors; what is the legal order of collateral disposition
Security Agreement – the debtor agrees to specific points that govern the lien, e.g. collateral and the nature of the debt obligation
Security Interest – an interest in in a customer's personal assets to secure the repayment of its debt
Purchase Money Security Interest – a specific type of security interest that enables an entity that provides financing for the acquisition of goods or equipment to obtain priority ranking ahead of other secured creditors.
UCC 1 Financing Statement – a UCC form prepared by company granting credit. When it is filed appropriately it gives public notice that a creditor has a security interest in collateral belonging to the customer documented in the statement.